TSC ACFM® endorsed by Lloyd's Register
14/03/2016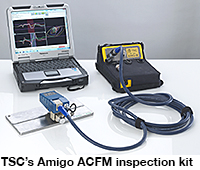 Following evaluation through independent trials and procedural assessments, TSC's ACFM® inspection technique has been accepted by Lloyd's Register, the leading international classification society and certification body. This new endorsement covers manual and robotic deployment of ACFM for topside, subsea and splash-zone inspection applications.

Under Lloyd's Register certificate RSS/MNDE/0009, the TSC Amigo™ and U31™ systems have been accepted for the in-service examination of structural welds, heat-affected zone (HAZ) and adjacent parent material, in uncoated or coated steel structures, with the intention of detecting surface-breaking discontinuities.

TSC ACFM is referred to in the Lloyd's Register Survey Procedures Manual and the Lloyd's Register Materials & NDE training programme.

The Lloyd's Register assessment of TSC and its ACFM systems and procedures also included a thorough review of company operating and quality procedures, personnel qualifications, training and development schemes.

TSC's Technical Director, Dr Mike Smith, commented: "We are delighted and very proud to gain Lloyd's approval. Their review of the ACFM technique was very positive and the audit of our procedures was very helpful indeed." Dr Smith added: "ACFM is increasingly recognised as a highly effective alternative to MPI and eddy current methods, especially for offshore applications. It also has a unique capability in robotic inspection, where we are seeing growing interest. Asset owners, inspection contractors and industry professionals can be assured by this independent endorsement of ACFM by Lloyd's Register."

TSC Inspection Systems was established in 1984 as a spin-off from University College London by a team of professors and lecturers, who were recognised leaders in the fields of NDT, robotics and fracture mechanics. Alternating current field measurement (ACFM) was developed with support from BP, BG, Conoco and Shell, who were keen to significantly improve the reliability of underwater inspection, reduce the reliance on the diver operator and provide auditable inspection records.


TSC Inspection Systems is the developer and sole supplier of ACFM technologies, with bases in Milton Keynes, Aberdeen and Singapore. TSC designs and manufactures rugged, field-proven ACFM systems for subsea and topside applications, together with a wide range of probes.
www.tscis.com