Annual Conference Travel and Attendance Award
Events Award
The Annual Conference Travel and Attendance Award aims to encourage attendance at the BINDT Annual Conferences by contributors from foreign nations.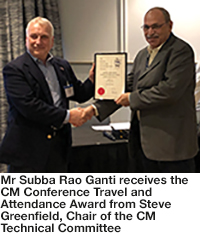 CM 2019 winner: Mr Subba Rao Ganti

The CM Conference Travel and Attendance Award was this year awarded to Mr Subba Rao Ganti, formerly with Qatargas.

Subba Rao Ganti has recently retired after a lifetime spent in condition monitoring and the CMTC felt it an appropriate award to honour that, as a retired person, he should wish to come from India to attend this conference and share his experiences with us all.

Subba Rao Ganti is Vibration Consultant at Sri Vijayadurga Machinery Vibration Solutions – Trainers & Consultants in Rajahmumdry, India. He has about 35 years of experience, out of which 30 have been exclusively in rotating equipment vibration analysis, training and troubleshooting for the oil & gas, power and petrochemical industries.

Subba Rao Ganti earned a BTech (mechanical) degree in 1983 from Jawaharlal Nehru Technological University in Hyderabad, India. He has served in reputed organisations such as NTPC, L&T and Masibus in India and General Electric (Bently Nevada division) and Qatargas Operating Company Ltd in the Middle East.

Subba Rao Ganti retired from Qatargas in May 2019 after serving there for approximately ten years and started his own training and consultation business. He has been a member of the Vibration Institute in the USA since 1998 and is a certified Category IV Vibration Analyst.

On receiving his award, Subba Rao Ganti said: "It is a great pleasure for me to receive this award and attend the CM conference in Glasgow as a foreign delegate from India.

"This conference turned out to be a great platform for the exchange of information and experience related to the condition monitoring of plant and equipment in a wide variety of industrial segments. The participants and paper presenters were a very good mix of research, academic and industrial backgrounds. There was excellent global participation from research and academic groups that shared their completed and ongoing projects, benefitting CM professionals at large."


NDT 2019 winner: Douglas O'Hare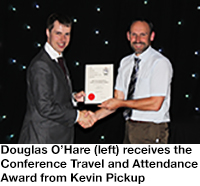 The NDT Conference Travel and Attendance Award was this year awarded to Douglas O'Hare.

On receiving the award, Douglas said: "It was an honour to be chosen as the recipient of the BINDT Annual Conference Travel Award, as it allowed me to travel from the USA and attend all three days of the NDT 2019 Conference. The event was incredibly informative and I enjoyed many interesting presentations. The evening activities were also a great opportunity to learn and meet new people – the trip to RAF Cosford and the Conference Dinner were both memorable. I was glad to have the opportunity to present my apprenticeship project to a wider audience and hopefully inspired some employers to take on more apprentices!"

Further information on the Annual Conference Travel and Attendance Award and the full terms and conditions can be found here.

Details of events awards can be found here.

Details of all Institute awards can be found here.