CM Innovation Award
Open award for members and non-members, CM Award
Award criteria

Purpose: For a significant contribution to technology innovation, technology transfer or technology strategy in the field of condition monitoring (CM) over a period of at least 5-10 years.
Details of the award: A certificate, £300 cash and an invitation to the CM Annual Conference Dinner, with free registration for the day and one night's accommodation for either the individual winner or, in the case of a group winner, a nominated representative.

Eligibility: Nominees can be individuals or groups who have made a significant contribution to CM technology through R&D technology transfer into industry or who have developed a strategy that has led to technology development and exploitation.

This is intended to recognise contributions over a period of at least 5-10 years.

The proposer of the award should be a voting member of the Institute. If they are not, they will need to ensure the application is endorsed by an Institute voting member.

Frequency: It is anticipated that one award will be made annually providing suitable nominations are received.

Nomination arrangements: Nominations should be submitted by email to: karen.cambridge@bindt.org

Nominations for the award will be reviewed by the CM Technical Committee (CMTC). If there is only one nomination, then the CMTC should vote to confirm whether the nomination is eligible and, if so, to approve the award.

If there is more than one nomination, then the entries should be sent for judging by a panel set up for the purpose. Four members of the panel are to be appointed by the CMTC. Each judge will be invited to score the entries on a point scale of 0 to 3 and send the scores to Karen Cambridge, who will total the scores, and the entry receiving the most points will be declared the winner.

Awarding arrangements: The certificate and cash prize will be presented to the winner at the CM Annual Conference during the Conference Dinner by the Chair of the CMTC.
Committee: CM Technical Committee.
---
Winners
2021 winner:
Professor Dr Hamid Reza Karimi
The CM Innovation Award for 2021 is awarded to Professor Dr Hamid Reza Karimi.

Hamid Reza Karimi received a BSc (First Hons) degree in power systems from the Sharif University of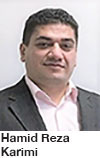 Technology, Tehran, Iran, in 1998, and MSc and PhD (First Hons) degrees in control systems engineering from the University of Tehran, Tehran, in 2001 and 2005, respectively. From 2009 to 2016, he was Professor of Mechatronics Control Systems at the University of Agder, Norway, and he is currently Professor of Applied Mechanics with the Department of Mechanical Engineering, Politecnico di Milano, Milan, Italy.

Hamid's original research and development achievements span a broad spectrum within the topics of automation, control and condition monitoring, with applications to complex systems such as wind turbines, vehicles, robotics and mechatronics. They have made him a leading international expert in this field, having published over 500 international ISI-indexed journal papers, one monograph and nine edited books. Furthermore, he has obtained several research grants, in particular with the Horizon Europe programme.

Hamid is an ordinary Member of Academia Europa (MAE), Distinguished Fellow of the International Institute of Acoustics and Vibration (IIAV), Fellow of the International Society for Condition Monitoring (ISCM) and Member of Agder Academy of Sciences and Letters, as well as a member of the IFAC Technical Committee on Mechatronic Systems, the IFAC Technical Committee on Robust Control and the IFAC Technical Committee on Automotive Control.

Hamid was recognised as the 2016-2021 Web of Science Highly Cited Researcher in Engineering, was awarded the August-Wilhelm Scheer Visiting Professorship and was the recipient of the 2020 IEEE Transactions on Circuits and Systems Guillemin-Cauer Best Paper Award, the Japan Society for the Promotion of Science (JSPS) Research Award and the Alexander von Humboldt-Stiftung Research Award, among others.


Hamid is currently the Editor-in-Chief of the following journals: Cyber-Physical Systems, Complex Engineering Systems and the International Journal of Aerospace System Science and Engineering. He is Subject Editor, Technical Editor or Associate Editor for several international journals and Book Series Editor for Springer, CRC Press and Elsevier. He has also served as Guest Editor for more than 30 special issues of several ISI journals. Hamid has participated as general chair, keynote/plenary speaker, distinguished speaker or programme chair for several international conferences in the areas of control systems, robotics and mechatronics.

Past winners:
2017 Dr Ruhul Amin
2018 Dr Jérôme Lacaille
2019 Dr Zhike Peng
2020 Robert Cutler


Details of CM awards can be found here.

Details of all Institute awards can be found here.