The COMADIT Prize
Open award for members and non-members, CM Award
Award criteria
Purpose: The COMADIT Prize is awarded annually by the British Institute of Non-Destructive Testing to recognise a significant contribution over a period of at least 5-10 years through research and development in any branch of condition monitoring to the benefit of industry or society.

Details of the award: The prize will be in the form of a certificate and will be backed by a cash sum of £350. Invitations to sponsor the prize will be issued each year to all Corporate members of the Institute. When more than one organisation desires to be the sponsor, the selection shall be by lot. The sponsor's name will be prominently mentioned in all publicity associated with the prize for the year in question and will be featured on the Honours Board at the Institute HQ.

Eligibility: The prize may be won by any research worker or group.

This is intended to recognise contributions over a period of at least 5-10 years.

The proposer of the award should be a voting member of the Institute. If they are not, they will need to ensure the application is endorsed by an Institute voting member.

Frequency: The prize will be awarded annually and will only be issued if suitable nominations are received.

Nomination arrangements: Nominations should be submitted by email to: karen.cambridge@bindt.org

Nominations for the award will be reviewed by the CM Technical Committee (CMTC). If there is only one nomination, then the CMTC should vote to confirm whether the nomination is eligible and, if so, to approve the award.

If there is more than one nomination, then the entries should be sent for judging by a panel set up for the purpose. Four members of the panel are to be appointed by the CMTC. Each judge will be invited to score the entries on a point scale of 0 to 3 and send the scores to Karen Cambridge, who will total the scores, and the entry receiving the most points will be declared the winner.

Awarding arrangements: The prize will normally be presented at the CM Annual Conference during the Conference Dinner by the Chair of the CMTC.

Committee: CM Technical Committee.
---
Winners
2021 winner: David Manning-Ohren
Sponsor:
PCN Working Groups

The COMADIT Prize for 2021 is awarded to David Manning-Ohren, who is an expert in his field of implementing condition monitoring (CM) to major plant and assets, enabling cost-effective monitoring to be carried out.

A time-served electrical technician, David Manning-Ohren has been a leader in the development of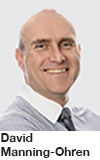 reliability services within ERIKS, not only for condition monitoring techniques but also for the integration of ERIKS engineering services to dove-tail with the company's offering. He is involved full-time with the technical management of the smart asset management and is an active participant in BINDT condition monitoring competence development, as well as assisting the British Standards Institution (BSI) in the development of condition monitoring standards.

Outside of work, David is a triathlete of almost 20 years, has raced for Great Britain at age-group level and has completed 16 Iron distance races. He also coaches the sport and two of the athletes he has coached represented England and Wales at this year's Commonwealth Games.


Past winners:




Sponsors:




2008




Prof A D Hope




Laser Optical Engineering Ltd




2009




Dr T Holroyd




J R Technology and RMS Ltd




2010




Mr C Pearson




Staffordshire University




2011




Dr M Walters




RMS Ltd



2012


Mr S Mills and Mr D Whittle




SpectraQuest Inc



2013


Mr S Greenfield and Mr D Shorten




Ardrox Engineering



2014

Dr J Twiddle and

Dr S Muthuraman




PCN Working Groups

2015



Mr K Seaborne and

Dr J H Yebra




PCN Working Groups

2016




Professor Len Gelman




PCN Working Groups




2017



Professor

Ling Wang

PCN Working Groups




2018




Professor Andrew Starr




PCN Working Groups




2019




Professor Siamak Noroozi




PCN Working Groups

2020
Professor Andrew Ball
PCN Working Groups

A nomination form can be downloaded here.

Details of CM awards can be found here.

Details of all Institute awards can be found here.