Gail Long Early Career Woman Engineer of the Year Award
Open award for members and non-members
Award criteria

Purpose: The purpose of this award is to recognise women at an early stage of their career in any field of NDT/CM/SHM and associated science, engineering and technologies. It aims to raise the profile of women in engineering, and of NDT and its related disciplines and industries, with a contribution over a period of at least 2-5 years.

The award highlights activity in the following areas: contribution to the NDT/CM/SHM or wider engineering community; contribution in research, education, technological innovation; and the promotion and practice of NDT/CM/SHM. Nominees can be active in any relevant sector or industry.

The award is named in honour of the late Gail Long, winner of the BINDT Lifetime Achievement Award in 2017, who made a major contribution in the NDT community.

Details of the award: The award will consist of a certificate plus £250 cash/bank transfer, an invitation to either the NDT or CM Annual Conference Dinner and one night's accommodation.

Eligibility: Nominees should have made a valuable contribution to the NDT/CM/SHM community, either through R&D, technology innovation, development or transfer, by developing strategies leading to new technology development and exploitation, by contribution to standards or by facilitating significant change in NDT/CM/SHM.

The suggested guideline on 'early career' is within 10-15 years of starting work as an engineer (excluding career breaks).

This is intended to recognise contributions over a period of at least 2-5 years.

The proposer of the award should be a voting member of the Institute. If they are not, they will need to ensure the application is endorsed by an Institute voting member.

Frequency: The prize will be awarded annually and will only be issued if suitable nominations are received.

Nomination arrangements: Nominations should be submitted by email to: karen.cambridge@bindt.org

Nominations for the award will be reviewed by the Membership, Qualification and Education (MQ&E) Committee. If there is only one nomination, then MQ&E should vote to confirm whether the nomination is eligible and, if so, to approve the award.

If there is more than one nomination, then the entries should be sent for judging by a panel set up for the purpose. Four members of the panel are to be appointed by MQ&E. Each judge will be invited to score the entries on a point scale of 0 to 3 and send the scores to Karen Cambridge, who will total the scores, and the entry receiving the most points will be declared the winner.

Awarding arrangements: The certificate and cash/bank transfer will be awarded to the winner at their choice of either the NDT or CM Annual Conference Dinner.

Committee: MQ&E and Diversity & Inclusion Advisory Group (DIAG).



---
Winners
2021 winner: Samantha McInnes-Rankin

The winner of the Gail Long Early Career Woman Engineer of the Year Award for 2021 is Samantha McInnes-Rankin.

Samantha McInnes-Rankin started her career in non-destructive testing (NDT) nine years ago as a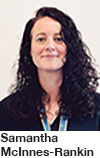 trainee Level 2 Technician and quickly fell in love with the industry. Early on in her career, there were always more advanced questions she sought answers to; as with all engineering sciences, in NDT the devil is in the detail. Having been involved in NDT for around a year, Samantha realised very quickly that she wanted to understand every detail, so enrolled herself (self-sponsored) onto the University of Northampton's Non-Destructive Testing degree course. Initially completing the foundation level in 2017, she then progressed to complete her honours and gained a first class in 2019.

In 2018, she was given an amazing opportunity by Babcock International to join the Technical Services Department at their Rosyth site and train to be a Company Level 3. Since then, she has completed both PCN and ASNT Level 3 qualifications in visual testing (VT), magnetic testing (MT), penetrant testing (PT), ultrasonic testing (UT) and radiographic testing (RT).

Samantha is currently a Senior NDT Engineer/Level 3 with Babcock and the subject matter expert on all aspects of NDT, working on various projects. She played an integral role in developing the Babcock Rosyth site's first in-house NDT team in over 15 years, producing and implementing training programmes. She also introduced an oversight programme, which includes the witnessing of inspections, auditing of staff and processes and identifying risks and training
requirements.

In the future, Samantha and the team are looking to develop in-house capabilities further, including the use of advanced ultrasonic methods.

A nomination form can be downloaded here.
Details of all Institute awards can be found here.