The Hugh MacColl Award
Open Award
The Hugh MacColl Award is offered by the Institute to encourage practitioner members to develop practical innovations in any technical aspect of NDT or Condition Monitoring and to give such practitioners the opportunity to receive national recognition for individual achievements of outstanding merit. It commemorates the contribution to NDT of the late Hugh MacColl, a founder member of the NDT Society of Great Britain and former Principal of Wednesbury Technical College.

2018 winner: Ian Jones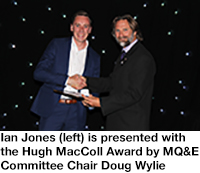 Born in Grantham in 1988, Ian Jones enrolled on the RWE npower (BINDT) apprenticeship scheme in 2006 and passed with distinction. He then stayed with RWE npower for a further three years.

To gain wider professional and life experience, Ian moved to Australia and integrated into ALS Power Services as an Advanced NDT Technician. After three years, he joined Synergy as part of the Inspection & Materials Services (IMS) as a Metallurgical/Technical Officer based at Muja Power Station. Here, his primary responsibilities included asset integrity, risk management, guidance on inspection scope and cost management of inspection and contract budgets, making recommendations to further improve plant integrity and reliability within his remit.

Since returning to the UK in July 2015, Ian has been employed by RWE as a Lead Inspector. His responsibilities have primarily involved the coordination and supervision of both inspection scopes and assessment of heat recovery steam generators (HRSGs)/balance of plant (BOP) and gas turbine (GT)/shaftline components across the RWE portfolio. As part of this role, he has been working closely with the Gas Turbine Engineering Team on the assessment and borescope inspection on GT26 machines. These inspections lead to the development of an inspection technique with the purpose of gathering internal images to further monitor machine degradation, while also saving time and resources and improving the quality and consistency of the inspection.

Ian is looking to enrol on a Mechanical Engineering HNC this month at the University of Nottingham.


Past winners:
1989 Chief Tech G Metcalfe
1990 Mr G Elliott
1991 Mr M J Nicholas
1992 Dr S R Oaten
1998 Mr K Coultate
1999 No Award
2000 No Award
2001 No Award
2002 No Award
2003 Mr T Armitt
2004 No Award
2005 No Award
2006 No Award
2007 Mr C Ward
2008 No Award
2009 No Award
2010 No Award
2011 No Award
2012 Mr J Drury
2013 No Award
2014 No Award
2015 No Award
2016 No Award
2017

Doug O'Hare



A nomination form can be downloaded here.

Details of all Institute awards can be found here.