The John Grimwade Medal
Publications Award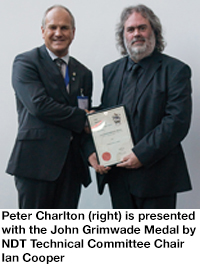 The John Grimwade Medal was instituted in 1981 as a memorial to the late E J Grimwade MC, HonFInstNDT, an outstanding pioneer of NDT in Great Britain. The medal is awarded annually to the author of the best paper by a Member to appear in the Institute's journal.

2017 winners: Professor Peter Charlton, Dr Stephen Mosey, Dr Miles Weston and
Dr Mark Sutcliffe

The recipients of the John Grimwade Medal for 2017 are Professor Peter Charlton, Dr Stephen Mosey, Dr Miles Weston and Dr Mark Sutcliffe for their paper, titled: 'Virtual source aperture imaging and calibration for ultrasonic inspections through dual- layered media for non-destructive testing', which was published in Insight, Vol 59, No 11, November 2017
(DOI: 10.1784/insi.2017.59.11.596).

Professor Peter Charlton is currently Professor in Applied NDT at the University of Wales Trinity Saint David. He has 30 years of industrial and academic experience in the research and development of advanced automated electromagnetic and ultrasonic NDT imaging systems for the petroch
emical, power generation and aerospace industries. He is responsible for engagement with key industrial partners and PhD and MSc research supervision within the School of Engineering.

Dr Stephen Mosey is a senior lecturer in the school of applied computing at the University of Wales Trinity Saint David. He has over 15 years' industrial and academic experience in the development of advanced ultrasonic imaging equipment for NDT inspection applications in oil & gas, nuclear, aerospace, manufacturing and rail. In 2013, he gained a doctorate in signal and image processing for NDT (resolution enhancement of B-mode ultrasound images) with the University of Wales Trinity Saint David.


Dr Miles Weston is currently the NDT Product Development Team Manager at TWI Technology Centre (Wales) and is responsible for the development of novel non-destructive testing and evaluation technologies from concept through to commercialisation. With over ten years of industry experience he has managed teams delivering inspection solutions in sectors including military, aerospace, oil & gas and power generation. In 2012, Miles gained his engineering doctorate in advanced ultrasonic digital imaging and signal processing for applications in the field of non-destructive testing.

Dr Mark Sutcliffe is a senior project leader with TWI, specialising in novel ultrasonic data acquisition and imaging solutions. With over 20 years of industrial experience, in 2015 h
e gained a doctorate in NDT (time-critical synthetic transmit aperture ultrasound imaging) with the University of Wales Trinity Saint David. Mark has developed and delivered NDT inspection systems for use in nuclear, aerospace and space exploration.

Past winners:
1980 Mr S I Ibrahim and Mr V N Whittaker
1981 Mr D A W Pullen
1982 Mr R F Lumb
1983 Dr J M Farley and Mr J L Thomson
1984 Mr A N Robinson, Mr P Nolan and Mr G A Raine
1985 Mr C N Owston
1986 Dr D N Shackleton
1987 Dr J Ogilvy
1988 Dr P Highmore and Dr K A Short
1989 Dr G A Georgiou
1990 Dr P A Cawley
1991 Dr A McNab
1992 Dr J R Rudlin and Dr L C Wolstenholme
1993 Prof J H Bungey
1994 Dr F A Wedgwood
1995 Mr R A Smith
1996 Dr A McNab and Dr A Cochran
1997 Prof G Hayward, Mr R Banks and Mr R Farlow
1998 Prof G Hayward and Mr P Reynolds
1999 Dr A Khalid
2000 Dr B W Drinkwater, Dr A M Robinson and Dr R J Freemantle
2001 Mr R A Smith and Dr G R Hugo
2002 Dr S Dixon, Dr C Edwards and Prof S B Palmer
2003 Dr L L Morgan, Mr P Nolan, Mr A Kirkham and Mr R Wilkinson
2004 Dr E A Birt, Mr L D Jones, Mr R A Smith and Prof C B Scruby
2005 Dr A Sophian, Dr R S Edwards, Prof G-Y Tian, Dr S Dixon, Dr D Topp and Dr M Smith
2006 Mrs A Whittle
2007 Prof P Cawley
2008 Dr L Nelson
2009 Dr R A Smith
2010 Mr C Lane
2011 Prof D P Almond
2012 Prof P Cawley
2013 Prof D Mery

2014 Prof P Cawley, Dr N Brierley and Dr T Tippetts

2015

Dr C Mineo, Prof S G Pierce, Mr B Wright, Prof I Cooper and

Dr P I Nicholson


2016 Dr Chris Ward and Dr Colin Brett


Details of publications awards can be found here.


Details of all Institute awards can be found here.