The John Grimwade Medal
Publications Award
The John Grimwade Medal was instituted in 1981 as a memorial to the late E J Grimwade MC, HonFInstNDT, an outstanding pioneer of NDT in Great Britain. The medal is awarded annually to the author of the best paper by a Member to appear in the Institute's journal.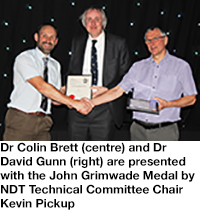 2018 winners: Dr Colin R Brett, Dr David A Gunn, Dr Ben A J Dashwood, Simon J Holyoake and Dr Paul B Wilkinson

The recipients of the John Grimwade Medal for 2018 are Dr Colin R Brett, Dr David A Gunn, Dr Ben A J Dashwood, Simon J Holyoake and Dr Paul B Wilkinson for their paper, titled: 'Development of a technique for inspecting the foundations of offshore wind turbines', which was published in Insight, Vol 60, No 1, January 2018 (DOI: 10.1784/insi.2018.60.1.19).

Dr Colin Brett has worked in the power generation industry for 35 years and is currently the Technical Head of Inspection Management at Uniper Technologies Ltd, based near Nottingham in the UK. He has developed and delivered NDT solutions for nuclear, coal, oil, gas and renewable generation assets. He currently serves on the British Institute of Non-Destructive Testing (BINDT)'s Council and Technical Committee.

Dr David Gunn is an engineering geophysicist who has spent 25 years at the British Geological Survey (BGS) developing novel geophysical seismic and electrical methods. Recent innovations include the development of time-lapse resistivity monitoring systems for imaging the dynamic groundwater movement in earthworks infrastructure and remotely operated vehicle (ROV)-mounted non-contact ultrasonic systems for diagnosing the condition of monopile foundations.

David has a BSc in geophysics from Reading University and a PhD in geophysical instrumentation from Manchester University. He is currently Principal Scientific Officer at BGS.

Dr Ben Dashwood is an engineering geophysicist who, prior to joining BGS, worked in consultancy, undertaking a wide range of near-surface geophysical surveying predominantly in the transportation sector. His present research investigates how geotechnical parameters may be determined/monitored non-invasively via geophysical proxies, with a particular focus on the use of seismic techniques.

Ben has a BSc in geophysical sciences from the University of Southampton and a PhD in palaeomagnetism and structural geology from the University of Plymouth.

Dr Paul Wilkinson has been a theoretical geophysicist at BGS for 15 years, researching and developing geophysical imaging and monitoring techniques. Recent innovations include time-lapse electrical resistivity monitoring for earthworks infrastructure stability, surface movement detection using geoelectrical monitoring data and modelling ultrasonic diagnosis of monopile foundation condition.

Paul has a BSc in physics from the University of Birmingham and a PhD in theoretical physics from the University of Nottingham. He is currently Senior Scientific Officer at BGS.

Past winners:
1980 Mr S I Ibrahim and Mr V N Whittaker
1981 Mr D A W Pullen
1982 Mr R F Lumb
1983 Dr J M Farley and Mr J L Thomson
1984 Mr A N Robinson, Mr P Nolan and Mr G A Raine
1985 Mr C N Owston
1986 Dr D N Shackleton
1987 Dr J Ogilvy
1988 Dr P Highmore and Dr K A Short
1989 Dr G A Georgiou
1990 Dr P A Cawley
1991 Dr A McNab
1992 Dr J R Rudlin and Dr L C Wolstenholme
1993 Prof J H Bungey
1994 Dr F A Wedgwood
1995 Mr R A Smith
1996 Dr A McNab and Dr A Cochran
1997 Prof G Hayward, Mr R Banks and Mr R Farlow
1998 Prof G Hayward and Mr P Reynolds
1999 Dr A Khalid
2000 Dr B W Drinkwater, Dr A M Robinson and Dr R J Freemantle
2001 Mr R A Smith and Dr G R Hugo
2002 Dr S Dixon, Dr C Edwards and Prof S B Palmer
2003 Dr L L Morgan, Mr P Nolan, Mr A Kirkham and Mr R Wilkinson
2004 Dr E A Birt, Mr L D Jones, Mr R A Smith and Prof C B Scruby
2005 Dr A Sophian, Dr R S Edwards, Prof G-Y Tian, Dr S Dixon, Dr D Topp and Dr M Smith
2006 Mrs A Whittle
2007 Prof P Cawley
2008 Dr L Nelson
2009 Dr R A Smith
2010 Mr C Lane
2011 Prof D P Almond
2012 Prof P Cawley
2013 Prof D Mery

2014 Prof P Cawley, Dr N Brierley and Dr T Tippetts

2015

Dr C Mineo, Prof S G Pierce, Mr B Wright, Prof I Cooper and

Dr P I Nicholson
2016 Dr Chris Ward and Dr Colin Brett
2017
Professor Peter Charlton, Dr Stephen Mosey, Dr Miles Wes

t

o

n and Dr Mark Sutcliffe



Details of publications awards can be found here.


Details of all Institute awards can be found here.