The Nemet Award
Open Award
The Nemet Award was established by the generosity of Dr A Nemet HonFInstNDT and aims to recognise examples of outstandingly effective use of NDT, especially those which might encou
rage small firms to apply NDT methods for the first time.


2017 winner:
Dr Didar (Dee) Singh Dulay FInstNDT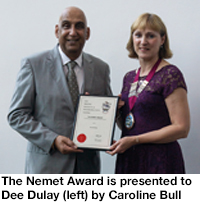 The 2017 Nemet Award has been won by Dr Didar (Dee) Singh Dulay FInstNDT, in recognition of his extensive and valuable knowledge within the NDT industry.

After graduating in 1974, Dee Dulay worked at a research and development (R&D) centre for one year and then took six weeks' leave and went on a journey with two friends. They bought a second-hand Land Rover, travelled from the UK to India, overstayed their leave and lost their jobs. After six months, Dee came back and found a job in 1976 as a special process engineer with Central Process Division, which carried out heat treatment, chemical processing, etc. It was here that he first encountered crack testing. This was Dee's first foray into NDT and, finding the subject both interesting and intriguing, he never really looked back.

Having worked for a number of companies carrying out various NDT-related tasks, Dee started his own company, NDT Consultants, in 1985, from a caravan on his driveway, after identifying the need for NDT in local industry. The company offered wraparound care for all companies that provided NDT services and Dee started to build a good team. In 1988, he achieved ASNT Level III in PT, MT, ET, RT and UT in one sitting, with knowledge of all the other disciplines. His first major achievement was to write ECTP5 and ECTP7 acceptance standards for the Ministry of Defence (MOD), which became defence standards and are currently still in use.

As it expanded, the company moved into the premises of an old wooden mill in Magor, Monmouthshire. Dee's vision saw this building transformed into a brand-new build with dedicated facilities for training and inspection. In 1995, he expanded into the Midlands, with one person operating from a rented office, before eventually buying a property in Coventry in response to a growing demand in the area. Within a year, the company had outgrown this space and moved to larger premises, where it flourished.

Dee created an R&D department in 2000, where his team contributed to EU projects and the design of a number of unique instruments, including the UVe-Lux. This instrument was unique in that it read UV and white light simultaneously without the need for repositioning, used an LCD colour display and was also suitable for aerospace use.

Next, Dee wanted to gain a PhD, which he achieved at Cranfield University. His ideas were exceptionally creative and he started to work on the Mag-Tec, a magnetic field strength meter, and then the UV EYE,which is used to measure small indications. This was suitable for measuring indications of TAM panels and made this task exceptionally easy.

Dee soon identified a growing need for an NDT supporting company in India and started with two people in rented accommodation. Following the purchase of a building in a prestigious area (Electronic City) of Bangalore, the Indian office has grown in size over the last ten years to mirror the UK office. It provides Level 3 services, training, certification, inspection, consumables and calibration to companies such as Tata and HAL in a fast-growing industry in India.

Dee has since moved on to designing UV lamps suitable for aerospace and specifications approved by Rolls-Royce. Ticking away in the background, under the supervision of Dee, are the projects that the R&D department are working on: troubleshooting, resolving issues and evidencing new ideas that can be taken to the marketplace. Dee is globally recognised for his extensive and valuable knowledge within the NDT industry.

Dee continues providing training qualifications services as well as supporting companies. He has five ASNT Level IIIs and seven NAS 410/EN 4179 Level 3s, as well as holding many Level 3 aerospace approvals from companies such as Boeing, Airbus, Rolls-Royce and Honeywell, to name a few.

Dee has always supported BINDT and his company became an Associate (Corporate) Member of the Institute back in 1988. He has personally contributed as Chairman of the South Wales Branch from 1984 to 1986, as a Member of Council from 1983 to 1986, as an International Representative from 1996 to 2003 and, currently, as a Member of the MQ&E Committee, which he joined in 1996.


Past winners:
1989 Mr B Garbett
1990 Dr D H Saunderson
1991 Mr M Orrell, Mr G Vessey and Mr A Holden
1992 Mr C R Bird, Mr C R A Schneider and Mr J Morton
1993 Mr F E Hardie
1995 Dr C I Nicholls
1997 Mr G Herdman
1999 Mr A K Dunhill
2000 Mr J A Hughes
2001 Eur Ing Prof R M Cripps
2002 Mrs S A O'Connor
2003 Mr J Smith
2005 Mr J H Calvert
2006 Dr D J Lovejoy
2007 No Award
2008 Mr A Hadnum and Mr T Berry
2009 No Award
2010 Mr M Moles
2011 Mr B Brown
2012 Mr J Harris
2013 No Award
2014 Mr J McNab
2015 Mr D MacLennan
2016

Raymond J R Wilson MInstNDT FIAQP



A nomination form can be downloaded here.

Details of all Institute awards can be found here.