The Nemet Award
Open Award
The Nemet Award was established by the generosity of Dr A Nemet HonFInstNDT and aims to recognise examples of outstandingly effective use of NDT, especially those which might encou

rage small firms to apply NDT methods for the first time.



2018 winner: Rex Ankers

The 2018 Nemet Award has been won by Rex Ankers, in recognition of his valuable contribution and willingness to pass on his extensive knowledge within the CRT/DRT/CT Working Group, as well as his involvement in the development of advanced NDT techniques such as digital/computed radiography.

In 1974, Rex joined Non-Ferrous Welding Co (Langley) Ltd, a small company that later became NFW Inspection Co, as a trainee radiographer, a job he had not previously heard of.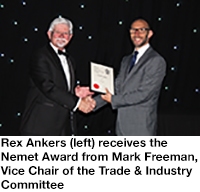 At the time, Rex was living on a canal boat moored next to a caravan and a small building on an industrial estate, which housed a dark room and a radiography bay. He got to know the owner as he needed water from the caravan and ended up being offered a job, where he found that by living right alongside it he was able to run the radiography bay 24 hours a day!

Rex progressed through various roles within the company, including NDT Supervisor, Quality Manager and Technical Director, and by 2008 he owned it.

During this time, Rex also learnt how to perform ultrasonic testing (UT), penetrant testing (PT) and magnetic particle inspection (MPI), as well as being trained in radiography, gaining PCN Level 3s in all of these methods.

In 1994, the company started working with major film industry suppliers, developing testing programmes for lightweight cranes, including welded aluminium, bonded aluminium and carbon composite constructions. In support of this, Rex developed techniques including eddy current testing (ECT) and bond testing.

Once Rex took over the company, and with the help of a newly appointed secretary who joined from a previous role as finance director of one of the company's clients, he grew the business to 16 employees before selling it in 2016. He continued working with the new owners until his resignation in 2018.

From 2014 to present, Rex has been involved in a number of activities, including participating in development projects for subsea oil and gas projects and projects for composite engineering products, involving digital radiographic testing (DRT), UT, thermographic testing, laser shearography, Crompton backscatter, low-frequency ultrasonics, non-linear ultrasonics and phase contrast radiography. In 2018, he also participated in the development of DRT applied to high-volume production testing.

Rex is currently engaged in a number of activities with the British Institute of Non-Destructive Testing (BINDT). He was an active participant in the employer group responsible for the creation and development of the three NDT apprenticeships and is now Vice Chair of the Education and Professional Development Committee. He is Chair of the Digital Radiography Working Group, which is working to develop the syllabus for film radiography, digital radiography and radioscopy, and he participates in meetings of PCN's General Technical Committee.

Rex holds current PCN Level 3 certifications in radiographic testing (RT) castings, RT welds, UT wrought products and a CSWIP Level 2 in digital radiography welds.

Rex is currently involved in the sales of portable DRT equipment (acting as an agent for a manufacturer), which includes helping customers transfer from film radiography with support for both personnel training and documentation along with the development of specialist inspection tools and an on-site testing service.

More recently, Rex has been helping to set up a Jamaican restaurant, Blue Mountain Yard, at the Rushden Lakes shopping and leisure complex in Northamptonshire with his son and is actively supporting the new business.


Past winners:
1989 Mr B Garbett
1990 Dr D H Saunderson
1991 Mr M Orrell, Mr G Vessey and Mr A Holden
1992 Mr C R Bird, Mr C R A Schneider and Mr J Morton
1993 Mr F E Hardie
1995 Dr C I Nicholls
1997 Mr G Herdman
1999 Mr A K Dunhill
2000 Mr J A Hughes
2001 Eur Ing Prof R M Cripps
2002 Mrs S A O'Connor
2003 Mr J Smith
2005 Mr J H Calvert
2006 Dr D J Lovejoy
2007 No Award
2008 Mr A Hadnum and Mr T Berry
2009 No Award
2010 Mr M Moles
2011 Mr B Brown
2012 Mr J Harris
2013 No Award
2014 Mr J McNab
2015 Mr D MacLennan
2016 Raymond J R Wilson MInstNDT FIAQP
2017

Dr Didar (Dee) Singh Dulay FInstNDT



A nomination form can be downloaded here.

Details of all Institute awards can be found here.