Personal Contribution Award
Open Award, Membership Award
The Personal Contribution Award recognises a valuable and extensive personal contribution to the British Institute of NDT and the wider 
NDT/CM community. The award acknowledges individuals who have been active members of the Institute for an extensive period of time, during which they have contributed to and influenced the wellbeing of the Institute.

2018 winner: Peter Wallace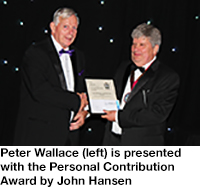 The Personal Contribution Award for 2018 is awarded to Peter Wallace in recognition of his work, his achievements and his personal qualities. In his role as Chairman of the Benevolent Fund since 1993, Peter has led the development of the Fund under changing circumstances and has guided it wisely to its present position of strength and stability, where it is widely recognised and greatly valued by Institute members.

Few individuals combine all of the achievements and qualities displayed by Peter during an NDT career spanning over 50 years. He is a role model for younger engineers and an exceptional example of how a working NDT engineer should acquit himself, develop and practise his skills and contribute to the betterment of his profession, his fellow practitioners and the wider community.

Peter was born in Whitley Bay, Northumberland, in 1940 and managed to survive the war, although there were a few near misses as the German bombers often dropped their bombs short when they were attacking Tyneside.

Peter left school in 1957 and joined the Royal Air Force as an apprentice engine fitter. He served in the Air Force until December 1970, working on a variety of aircraft at home and abroad and was a Sergeant Aircraft Fitter for the final four years. It was during his time in the Air Force that his interest in NDT started, when he was involved in radiography on Vulcan bombers.

On leaving the Air Force, Peter decided to pursue a career in NDT and joined the Non-Destructive Testing Society of Great Britain (NDTS) in 1969. He worked at E Green and Sons in Wakefield before joining the Central Electricity Generating Board (CEGB) Scientific Department as an NDT Engineer in 1973, working on power stations. Following the privatisation of the electricity supply industry, he set up his own company, Audit and Inspection Services (Wakefield) Ltd. Peter specialised in radiation safety and became a Radiation Protection Adviser under the RPA 2000 Scheme.

During a Sheffield Branch AGM, Peter's comments that the Branch was not very welcoming to new members resulted in him joining the committee!

He has served on the committee ever since, filling the roles of Elected Member, Secretary, Chairman, Branch Representative and Welfare Officer, a position that he still holds today. He joined the Benevolent Fund in 1989, when it was formed, and became Chairman (now Chair) in 1993 when Sam Wise retired.

Peter retired in April 2018 and now enjoys cruising and bridge, as well as continuing to chair the Benevolent Fund.


Past winners:

2017

Roger Lyon

Details of all Institute awards can be found here.