Roy Sharpe Prize
Open Award
The Roy Sharpe Prize is awarded by the Technical Committee of the Institute in recognition of a significant contribution through research and development in NDT to the benefit of industry or society and is sponsored each year by a different Corporate member. It was awarded for the first time in 1989 and is named in honour of Roy Sharpe, founder of the National NDT Centre at Harwell.

2018 winner: Dr Roman Gr Maev
Sponsor: WesDyne

In 2018, the Roy Sharpe Prize is funded by WesDyne and is awarded to Dr Roman Gr Maev.

Roman Maev is the founding Director General of the Institute for Diagnostic Imaging Research (IDIR) at the University of Windsor, Canada, a multi-disciplinary, collaborative research and innovation consortium established with the goal of creating a leading science and technology (S&T) centre in imaging research in Southwest Ontario. IDIR was formed in 2008 by the Ministry of Research, Innovation and Science, which provided an initial research investment.

In 1995, Roman was appointed Full Faculty Professor in the Department of Physics at the University of Windsor when he moved to Canada as part of the Intergovernmental Russian-Canadian Exchange Research Program. In 2002, Roman became the DaimlerChrysler/Natural Sciences and Engineering Research Council (NSERC) Industrial Research Chair and in 2007 he was granted the title of University Distinguished Professor.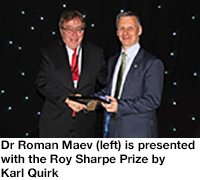 In 2004, Tessonics Corporation, a new Canadian high-tech start-up company was created based on an initiative by Chrysler. Its main mission is the commercialisation of research products developed by Roman's research and development (R&D) team at the University of Windsor. In 2009, Tessonics received the Ontario Premier's Award for Best Innovative Company. Roman is providing a leading technical role in this new high-tech enterprise. The company posted sales of over $20 million (approximately £16.4 million) annually for automotive, aviation and construction industries in 2018, has established branches in twelve countries worldwide, is well recognised in the USA, Latin and Central America, Japan, the UK, Germany, China and South Africa and is a registered supplier for companies such as Chrysler, Ford, BMW, Porsche, Fiat, Toyota, Nisan and Magna.

In 2018, Roman was appointed Director of the newly established high-tech start-up company ONtech Rapid Coatings Inc, which is a joint venture between ENWIN Energy Inc and Tessonics Inc. ONtech is the direct result of a research partnership between ENWIN Utilities Ltd and IDIR at the University of Windsor. The business venture received approval from Windsor City Council and was granted a business operating licence in November 2018. ONtech will play an important role in exploring the application of its technology across a broad range of industries, including the utility industry, the automotive industry and aeronautical manufacturing.

In order to support the academic part of this initiative, the original partner organisations, including IDIR, were awarded $5.5 million (approximately £4.5 million) by NSERC to help solve additional real-world industry problems. Since beginning his academic research in Canada, Roman has received over $36 million (approximately £29.6 million) in support from various industrial partners and government agencies.

Roman's research interests include theoretical fundamentals of physical acoustics, ultrasonic and non-linear acoustical imaging, nanostructural properties of advanced materials, additive manufacturing, biomaterials and their analysis, art analysis and the theory of propagation of waves through layered structures. He is the author of six monographs and the editor of seven books, has published over 350 peer-reviewed items and holds 30 international patents. Roman has won many national and international awards for his innovations, research discoveries and inventions. He is a Fellow of the Institute of Electrical and Electronics Engineers (IEEE) and a Distinguished IEEE Lecturer, as well as a Fellow of the British Institute of Non-Destructive Testing (BINDT), the Canadian Institute of Non-Destructive Evaluation (CINDE) and the Russian Society for Non-Destructive Testing & Technical Diagnostics (RSNTTD/RONKDT).

Roman's success, and the success of his Canadian research institute, demonstrates the uniqueness of this research and the growing successful relationship between industry and academia. These partnerships are important for the future progress of academic and applied fields.

Roman's research encompasses an extraordinarily diverse range of disciplines. He was among the first who started developing advanced multi-modal non-destructive methods for analysing fine art and cultural and historical heritage objects. He has supervised students in this field and has many publications in this area.


During the last ten years, he has been invited to the role of Guest Editor of Insight for several special issues on the topic of art and cultural heritage. Since 2005, Roman has been a member of the Organising Committee of the regular International Art Symposium, which has been held in countries including Italy, Israel and Spain. From 2016, Roman has been Chairman of the ICNDT Specialist International Group 'NDT of Art and Cultural Heritage'. In 2016, Roman initiated a new international conference, Analysing Art: New Technologies – New Applications, which was first held in London, UK, and then in Saint Petersburg, Russia, in 2018. Both events were a great success. The third meeting of this conference is planned for Florence, Italy. Roman and his team widely apply advanced methods and instrumentation to their research, including: infrared (IR), thermal and microwave imaging; high-resolution ultrasonic and air-coupling acoustic imaging; X-ray and X-ray fluorescence (XRF) spectrometry; holographic radar imaging systems for diagnostics of civil constructions; and surveying of cultural heritage objects.

During the last ten years, Roman and his team have successfully collaborated with various global art and cultural heritage institutions, such as English Heritage, National Trust, Hamilton Kerr Institute at the University of Cambridge, the Department of Art Conservation and Technology at the Courtauld Institute of Art in London and The National Gallery, as well as some art auction houses, such as Bonhams, McDougall's and Sotheby's. Roman has also been involved in various sculpture restoration projects in the UK, as well as in Canada, Germany and Russia, among others.

Dr Roman Maev has also been a member of the Rotary Club of Windsor (1918) since 1997. In 2009, Roman was recognised as Rotary International Paul Harris Fellow for his activities in the club's various programmes.

Past winners:




Sponsors:

1988


Dr M G Silk




Du Pont (UK) Ltd

1989


Prof W D Dover,
Dr R Collins and
Prof D H Michael

British Aerospace (Space Systems) Ltd



1990


Dr R K Chapman

Stanger Consultants Ltd

1991


Prof R E Challis

RTD Quality Services

1992

Mr C Baxter and


Dr A T Jones

Fuji Photo Film (UK) Ltd

1993


Prof G Hayward

AEA Sonomatic

1994


Dr R V Booler,




Dr D E Hook and




Mr J E Pearce

Amersham QSA

1995


Dr P Cawley

Lavender International NDT Ltd

1996


Mr R A Smith

Minton, Treharne & Davies Ltd

1997


Dr C B Scruby

IMF Technical Services Ltd

1998


Dr A McNab

DERA Farnborough

1999


Prof W Lord

Peak NDT Ltd

2000


Dr G-R Tillack

Royal & Sun Alliance

2001


Prof S B Palmer

A T Roffey & Co Ltd

2002


Prof R Dewhurst

Innogy plc

2003


Dr D Harrison

Sercal NDT Equipment Ltd

2004


Dr J Tyrer




Ultramag Inspection Systems Ltd

2005

Prof R Bruce

Thompson

South West School of NDT

2006


Prof D Almond

RSL (Aberdeen) Ltd

2007


Dr M Toft

AGR Field Operations

2008


Prof P Nagy

TWI Ltd

2009


Prof B Drinkwater

Ardrox Engineering

2010


Prof M J S Lowe

Inspectahire Instrument Co Ltd

2011


Prof G Dobmann

Lavender International NDT Ltd

2012

Prof K

Balasubramaniam

Ultrasonic Sciences Ltd

2013


Dr J Rose

Composite Inspection Ltd

2014


Prof C B Scruby

TSC Inspection Systems

2015




Prof Dr U Ewert




South West School of NDT




2016



Professor Paul David
Wilcox


South West School of NDT





2017

P

rofessor Steve Dixon

IMechE Engineering Training Solutions



A nomination form can be downloaded here.
Details of all Institute awards can be found here.