The BINDT Annual Conference Paper Award
Events Award
The BINDT Annual Conference Paper Award is an informal award presented at the end of the NDT Annual Conference for the best paper published in the conference Proceedings.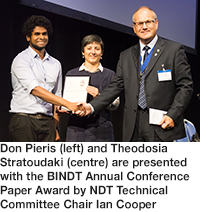 2018 winners: T Stratoudaki, Y Javadi, W Kerr, P D Wilcox, D Pieris and M Clark

Past winners:
2002 Dr K J Kirk
2003 Dr S F Burch
2004 Dr J Tyrer
2005 D I A Lines
2006 S F Burch, N J Collett, S Terpstra and M V Hoekstra
2007 L J Nelson, K Brown, A Young, L D Jones and R A Smith
2008 S Terpstra and F Hoeve
2009 Prof B Drinkwater and A Bowler
2010 C Charlesworth
2011 M Alamin, G Y Tian, A Andrews and P Jackson
2012 Dr D Lipatis, D Yan and I Cooper
2013 X Xi and F Cegla
2014 Prof R A Smith, N Xie, L J Nelson and S R Hallett
2015 T Stratoudaki, M Clark and P Wilcox
2016 S F Burch and H R Peramatzis
2017 N Karimian, M O'Toole and A Peyton

Details of events awards can be found here.

Details of all Institute awards can be found here.