The Tony Lager Award
Open Award, Branch Award
The Tony Lager Award was introduced in 1996 in honour of the late Tony Lager, who served the Institute for many years on head office and Branch committees, including Council. Tony passed away in July 1996.

2019 winner: Bob Naylor

The Tony Lager Award for 2019 is awarded to Bob Naylor.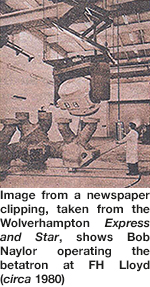 Bob Naylor started his career in non-destructive testing (NDT) in 1970 at the age of 18 at FH Lloyd (FHL) in Wednesbury in the UK. FHL was a steel foundry making 100 ton+ steel castings, mainly for the power generation industry. The company had a 31 MeV betatron, which at the time was a state-of-the-art piece of equipment. The betatron provided Bob's entry into NDT as he was fascinated to hear it could X-ray over 12 inches of steel in just a couple of minutes. He spent 15 years at FHL, training and gaining experience at West Bromwich College under the highly regarded teaching capabilities of Brian Jackson, Betty Doo and, latterly, Pete Stevens, long-standing members of the British Institute of Non-Destructive Testing (BINDT).

Bob moved to Babcock Construction in 1983 as a multi-qualified NDT Technician working (in the early days) on various power station sites in the UK and Europe. Here, his training and experience were put to good use as he was often working on his own in remote and tight access areas.

Bob is now in his 50th year working in NDT, having only worked for two companies during that time. He is now 68 and, although his days of working on site are over, he is still working full time (although now office-based) at the company he joined in 1983, which is now called Doosan Babcock. However, he says he is looking to retire as soon as the company can replace him!

Bob is married with two grown-up children. His family has supported him throughout his career and he feels he could not have performed the roles he has without their support. Once retired, Bob looks forward to spending more time with his wife doing the things they choose to do. There are lots of places and things to see in the world and he hopes to be able to tick a few off the list.

Bob has been an Institute member since 1973 and took on the role of West Midlands Branch Secretary in 2001, a role he still performs today.

Bob is proud to have chosen NDT as a career in 1983. His career in NDT has been interesting and varied and he would not have missed it for the world!

The Tony Lager Award was originally established as a prize for the Institute Branch achieving the highest number of new members in the year. This criterion was altered after 2000; until then the winners of the award were:

1995 North West
1996 Solent
1997 London and Home Counties
1998 West of England/West Midlands
1999 South Wales/West of England
2000 South Wales

Since then, the Award has been for meritorious service to an Institute Branch by an individual. The past winners are:

2002 Mr A Raine
2003 Mr P Stephens
2004 Mr J Pouncy
2012 Mr D Breeze and Mr B Webb
2013 Mr B Murray, Mr D Betts and Mr M R Dawson
2014 Mr B Shannon
2015 Mr Alan Hunscott

A nomination form can be downloaded here.

Details of Branch awards can be found here.

Details of all Institute awards can be found here.