Aerospace Executive Committee
Special Interest Groups
The Aerospace Executive Committee is a specialist committee comprising members from across the aerospace sector, covering aircraft manufacturers, both civil and military, engine suppliers, material producers, training organisations, equipment suppliers and leading academic institutions. Membership of this Committee is open to anyone with an interest in the aerospace sector but voting rights are restricted to members of BINDT. The committee reports to the NDT Technical Committee.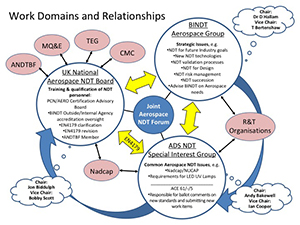 The Aerospace Executive Committee is focused on all things related to NDT within the aerospace sector. This includes providing guidance to the regulatory agencies (the European Union Aviation Safety Agency (EASA)), working closely with the UK National Aerospace NDT Board (UK NANDTB) and providing guidance to industry around the practice of NDT within the aerospace sector. It is also within its aims to promote the use of alternative technology and advancements in existing technology by looking at how these new technologies can be qualified and adopted in practice.

The Aerospace Executive Committee is also committed to disseminating this information to the wider community, especially NDT practitioners, and to support this goal the Committee helps to coordinate the Aerospace Workshop and Event, which takes place annually in April.


The current aims of the Aerospace Executive Committee are:

To define NDT requirements to meet future aerospace industry goals

To develop roadmaps for NDT technologies to guide knowledge generators (for example universities and RTOs) towards aerospace industry goals

To change the perception of NDT so that it is seen as a solution rather than a burden, by promoting the benefits of NDT methods within the design, production and maintenance communities

To promote and enable the introduction of new NDT technologies by identifying and tackling barriers and through scientific evaluation, validation and education of manufacturing and maintenance supply chains

Through collaboration with the NANDTB and ADS NDT SIG (in the Joint Aerospace NDT Forum), to provide a conduit into BINDT for aerospace-specific requirements.
Working Documents for the Aerospace Executive Committee:


Names and contact details for members of the Aerospace Executive Committee:

Chair: K Pickup

Vice Chair: T Bertenshaw

Members
The following may be contacted via the Secretariat:

T J Barden, T Blacklay, P Boulton, K Burnham, P Burrows, K Cambridge, I Cooper, R Culver, J Elliott, P Evans, R Freemantle,
J Heaton, C G Kempster, A Lawlor, D Lines, C Mackle, G P Malfense Fierro, T Martin, G McCully, S McKnight, D McMahon, N Metcalf, E Mohseni, J Moody, K Newton, T O'Hare, A Parsons, T Parsons, B Ravenshear, R Rose, Wenjuan Sun, A Terry, V Tunikovic and
A Young.

Email: aeroexec@bindt.org