Service Inspection Group (SIG)
Special Interest Groups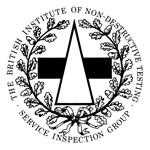 The Service Inspection Group was formed over 20 years ago by a small number of Corporate Members of the Institute who wanted to demonstrate a commitment to provide a professional service, based on an ethical approach to a very competitive environment.

The membership has grown steadily over the years, to 34, and SIG is a respected influence in the inspection and testing industry, as well as in the supervision of the membership, certification, policy and planning activities of the Institute.

SIG members have provided guidance and assistance to the PCN Scheme, and maintain representation on, or contact with, external bodies such as BSI, ONR, HSE, SAFED, UKAS, DTI, PCN and the Welding and Joining Quality Board. SIG is also involved in the discussions that are currently taking place to establish a European Certification Scheme.

To obtain membership, Corporate member companies are required to provide evidence of a quality system, preferably to the requirements of UKAS or BS EN ISO 9001:2008/2015.

Corporate members pay no additional fee to belong to SIG and the Committee members are active on their behalf in promoting the views, and enhancing the professional credibility, of the service inspection industry. Members are also entitled to use the SIG logo as part of their corporate image.

The future aims of SIG are:

To support other groups and committees within the Institute

To represent, and provide a forum for, those Corporate members who provide competent and professional services to the industry

To maintain links with end-user organisations and other bodies associated with the industry.
Promotion of SIG interests is by way of the Trade & Industry Committee. Nominees of SIG member companies are invited to participate in the activities of the SIG working Group (a sub-group within the Trade & Industry Committee).