Newsletter - Vol 1 Issue 2
West of England Branch
West of England Branch Newsletter
Volume 1 - Issue 2




What is happening in the West of England?

It makes aircraft save fuel. It makes wind turbines produce more power. It makes Formula 1 cars go even faster.

Of course, we are talking about 'The Age of Composites'.

Across industry, this material is gradually replacing steel and aluminium. They call it 'composite' because it has multiple layers. The most common form is carbon fibre, and it is changing the face of engineering.

Now a national composite research centre has opened in Bristol's Science Park to develop the technology.

When Sir Harry Studholme, Chairman of the South West Regional Development Agency, announced plans for the National Composites Centre (NCC) two years ago, he was heard to have said: "We've had the iron age and the industrial age, but now we are entering the age of composites."

A grand statement but not ridiculous. Boeing's new passenger plane, the so-called Dreamliner, is made almost entirely from composites. Airbus will unleash their own rival in 2014, the A350.

Why? Quite simply, because composite materials are lighter than metal. Making these aircraft from composites cuts fuel bills by a third.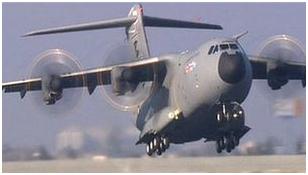 Already, Airbus has a composite military cargo plane in the skies. The wings, made entirely from composites, are manufactured in Filton. It may be lightweight, but it can lift 37 tonnes.

The wings that lift an armoured car start off as light floppy black tape and are made at the new GKN factory in Avonmouth, where they make parts for the Airbus 350.

Airbus's new military cargo plane has composite wings, made in Filton, Bristol.

And it not just plane makers who love composites. Wind turbines use it for the same reason in reverse. A lighter blade will spin faster in the same breeze, generating more power.

Rolls-Royce is now plunging composite blades underwater, searching for a material that will stand the salt and the pressure, and drive tidal turbines.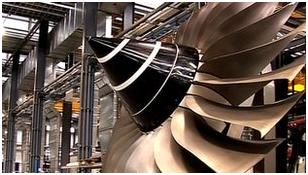 You can see in this picture composite fins on a Rolls-Royce Trent jet engine inside the new centre.

For years, Formula 1 cars have used super-light composites to gain speed. Now, electric car makers are experimenting with composite bodies. Save a kilogram in the body, they say, and you save another kilo in battery weight.

Almost everywhere you look, metal is on the way out and composites are coming.

The NCC's Director, Peter Chivers, said: "Anywhere we make things lighter, we save fuel and we cut carbon; composites are valuable."

Until now, research for this new technology had all been done in-house, by huge multi-nationals such as Airbus, Rolls-Royce and GKN. This made it hard for small firms to develop innovation and industry leaders believed it held back UK manufacturing.

At the same time, the science of composites was advancing in universities such as the University of Bristol.

The National Composites Centre was built to fill the gap.

Roger Lyon
Programme Secretary
West of England Branch