Newsletter - Vol 1 Issue 3
West of England Branch
West of England Branch Newsletter
Volume 1 - Issue 3
What is happening in the West of England?
John Cabot's Matthew
The Matthew was a caravel sailed by John Cabot in 1497 from Bristol to North America, presumably Newfoundland. After a voyage that went no further than Iceland, Cabot left again with only one vessel, The Matthew, a small ship (50 tons) but fast and able. The crew consisted of 18 people.


The Matthew departed on either 2 May or 20 May 1497. She sailed to Dursley Head, Ireland, from where she sailed due west, expecting to reach Asia. However, landfall was reached in North America on the 24 June 1497. The precise landing place is a matter of much controversy, with Cape Bonavista or St John's in Newfoundland the most likely sites.
Cabot went ashore to take possession of the land and explored the coast for some time, probably departing on the 20 July 1497. On the homeward voyage his sailors incorrectly thought they were going too far north, so Cabot sailed a more southerly course, reaching Brittany instead of England. On 6 August he arrived back in Bristol.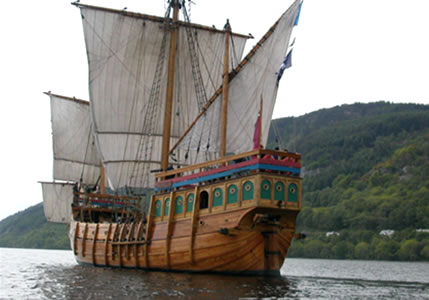 To celebrate the 500th anniversary of Cabot's voyage, a replica of The Matthew was built in Bristol by Storm's Services, a precursor of the Bristol Classic Boat Company. The design was by the naval architect Colin Mudie. She was dedicated in ceremony during the first International Festival of the Sea, held in Bristol's floating harbour in 1996. The next year, she reconstructed Cabot's original journey on the 500th anniversary of the landmark voyage. On 24 June 1997 the replica of The Matthew was welcomed in to port at Bonavista by Queen Elizabeth ll.

On 29 February 2012 The Matthew's ownership was transferred to the Matthew of Bristol Trust, and she was relocated to her new home outside Bristol's M Shed Museum.
Roger Lyon
Programme Secretary
West of England Branch