Best student paper award
Tuesday 30 June to Thursday 2 July 2020 Park Inn by Radisson Hotel and Conference Centre London Heathrow, UK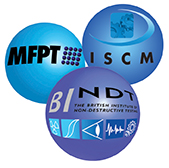 This competition is intended to encourage students and people in the early stage of their career (first five years) in the field of condition monitoring to present their work.

The winning paper will be selected based on both the quality of the paper and the presentation. The winner will be awarded a certificate, a cash sum of £250 and free institute membership for one year
(for the presenting author only).

Please note this award is presented at the closing ceremony at the conference.
To enter this competition, please complete the form below.

Please note that abstracts and full papers should be submitted via the manuscript central website (this will be available shortly).