Marine Composites Inspection Workshop 2021
13-14 October 2021
Royal National Lifeboat Institution (RNLI), Poole, UK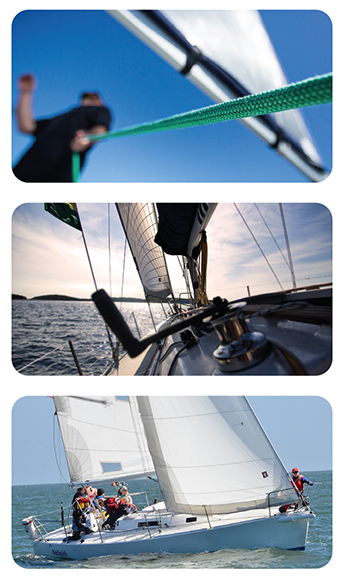 This two-day workshop is organised by the BINDT Composites Group in order to focus on the practice of NDT as performed in the field of marine composites.

The workshop brings together operators, practitioners, suppliers, manufacturers and regulators to demonstrate, discuss and compare approaches to NDT for different types of marine composite structure. It will provide an opportunity to discuss challenges and solutions that arise from NDT in this field. The workshop will cover the standards and requirements that drive the NDT approach, introduce the variety of inspection methods and techniques that are currently in use in this sector and share best practice.










To view or download a booking form, click here.




Programme


Day One – Wednesday 13 October 2021



08.45-
09.20

Registration
09.20-
09.30

Welcome and introduction


Rob Rose, NCC and Chair of BINDT Composites Group

Session 1: Practitioner experience


Chair: Laura Hayday
09.30-
09.50

Babcock Devonport NDT composite overview
Gary Whalley, Babcock International Group
09.50-10.10
Quantitative structural shearographic NDT of composite maritime structures: lessons learned from 30 years of testing maritime vessels
John R Tyrer, Professor of Optical Instrumentation, Department of Mechanical, Electrical and Manufacturing Engineering, Loughborough University
10.10-
10.30


Title TBC

Giles Waterhouse, International NDT Ltd

10.30-10.50

Title TBC
Speaker TBC

10.50-11.00

Q&A session



11.00-11.30

Coffee break


Session 2: Exhibitor session


Chair: Jack Lambert
11.30-11.45
Zetec's approach to composite inspection
Stephen Downie, High Technology Sources Ltd (HTSL)
11.45-12.00
Manufacture of specialist ultrasonic and eddy current standards for non-destructive evaluation (HDN)
David Scott, Bowyer Engineering Ltd
12.00-12.15
Title TBC
Sarah Walbyoff, Testia Ltd
12.15-12.30
Enhanced capabilities for ultrasonic inspection of marine composites with the dolphicam2
Jack Lambert, dolphitech AS
12.30-12.45
Shearography applications in the marine industry
Graham Hassell, Dantec Dynamics Ltd
12.45-13.00
In-situ inspection and condition assessment of GFRP composite with NIR and other techniques
Nili Steribon, Inspection Tech Ltd
13.00-13.15
Title to be confirmed
Speaker to be confirmed, ETher NDE Ltd
13.15-13.25
Q&A session
13.25-14.15
Lunch break
Practical demonstrations


Chair: Rob Rose
14.15-16.15
14.15-14.45 Practical use of collaborative robots for on-site inspection
Nathan Hartley, TWI Ltd
14.45-15.15 Composite inspection 'toolbox'
Chris Minton, Minton, Treharne & Davies Ltd
15.15-15.45 TBC
John Tyrer, Laser Optical Engineering Ltd
15.45-16.15 Novel approach to the marine world – from masts to hulls
Jack Lambert, dolphitech AS
16.15-16.45
Coffee and discussion session
16.45

Close for the day
Day Two – Thursday 14 October 2021



08.45-
09.20

Registration
09.20-
09.30

Welcome and introduction


Rob Rose, NCC and Chair of BINDT Composites Group

Session 1: Regulation and requirement


Chair: Rob Rose
09.30-
09.50

The RNLI's experiences and current application of marine composites NDT
Holly Phillips, RNLI
09.50-10.10
Title TBC
Paul Miller, Millstream Underwriting
10.10-
10.30


Work of the marine composites certification group

Chris Minton, Minton, Treharne & Davies Ltd
10.30-10.50

An approach to achieving NDT qualification of composite materials
Laura Hayday, Babcock International Group
10.50-11.15

Coffee break


Session 2: What's new


Chair: Jack Lambert
11.15-11.35
Automated terahertz imaging of composites
Nathan Hartley, TWI Ltd
11.35-11.55
Recent advances in microwave NDT systems
Robin Sloan, Microwave Inspection Technologies Ltd
11.55-12.15
NDE and QA in F1
Iain Bomphrey, University of Strathclyde
12.15-12.35
MMW imaging of composites with an active source that totally eliminates the problem of specular reflection
Dr Geoff Diamond, Inspection Tech Ltd
12.35-12.45
Q&A session
12.45-13.30
Lunch break
13.30-14.30
RNLI tour


Session 3: Open forum


Chair: Rob Rose
14.30-15.30
TBC


15.30

Workshop close

For further information contact:
Conferences and Events Department, The British Institute of Non-Destructive Testing,
Midsummer House, Riverside Way, Bedford Road, Northampton NN1 5NX, UK.
Tel: +44 (0)1604 438300; Fax: +44 (0)1604 438301; Email: conf@bindt.org