First workshop on NDT, CM and SHM requirements for civil structures
28-29 June 2022
Institution of Civil Engineers, London, UK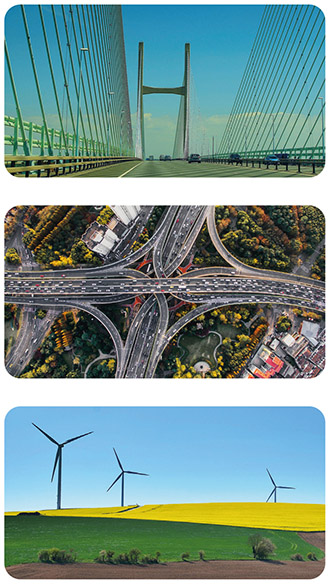 The British Institute of Non-Destructive Testing (BINDT), in collaboration with the UK Research Centre in Non-Destructive Evaluation (RCNDE), the Construction Industry Research and Information Association (CIRIA) and i3P, has scheduled a workshop considering requirements for civil structures.

The aim of this workshop is to bring together regulators, insurers, designers, civil and structural engineers, contractors, operators and owners of civil structures with the non-destructive testing (NDT), condition monitoring (CM) and structural health monitoring (SHM) communities to determine and document both current and future requirements for inspection, monitoring and asset management.

The high cost of maintaining ageing civil structures and the challenges in designing future digital and zero-carbon infrastructure require a coordinated approach to maximising the information available from non-destructive inspection and health monitoring for optimised lifecycle management. Due to the breadth of the civil infrastructure industry, this first workshop will focus on bridges, tunnels, retaining walls and culverts, but much of the discussion will be relevant to many other civil structures.

Through a series of invited presentations, the drivers and challenges of the civil infrastructure industry will be explained, together with a treatment of structural design, failure modes and the significance of defects. Inspection experiences from the field will be shared and a glimpse of potential future inspection technologies will enable designers to create more efficient, connected, reliable and sustainable structures that are effectively maintained, extend the life of existing structures and reduce lifecycle costs.

Finally, two breakout sessions and a panel session will focus on capturing and recording the key NDT, CM and SHM requirements in a report to provide reference.

To view or download a booking form, click here.



Exhibitor information
A commercial session for exhibitors will run alongside the workshop, on Tuesday 28 June 2022, showcasing the latest products, innovations and technology available to industry. This is an excellent opportunity for visitors to meet with industry colleagues, network and learn about the very latest NDT, CM and SHM technologies and services available from around the world.

Booking
There is a restriction on the number of spaces available and they are allocated on a 'first-come, first-served' basis. If your company is interested in presenting at this event or for further information, contact Karen Cambridge (karen.cambridge@bindt.org) or Sharon McNally (sharon.mcnally@bindt.org)

To download an exhibitor booking form, click here.


Exhibitors


Concrete Preservation Technologies Ltd


www.cp-tech.co.uk
Concrete & Corrosion Consultancy Practice Ltd

www.concorr.group

Construction Industry Research and Information Association (CIRIA)


www.ciria.org
Inspectahire Ltd

www.inspectahire.com
JR Technology Ltd

www.jrtech.co.uk
MISTRAS Group

www.mistrasgroup.com
Programme



Day one – Tuesday 28 June 2022

10.00-10.20
Registration, tea, coffee and networking
10.20-10.35
Welcome and introduction
Robert Smith, Andy Moores and
Leo McKibbins


Session 1A: Understanding the industry – drivers, business, risk, dynamics and tensions

Chair: Robert Smith
10.35-10.55
Regulatory viewpoint on the importance of asset information
Steve Dennis, Office of Rail and Road (ORR)
10.55-11.15
Key issues in design and placement of insurance for the construction phase of civil engineering projects
Adam Davey, Marsh Speciality
11.15-11.35
Rail owner perspective
David Castlo, Network Rail

11.35-11.55

Road owner perspective
Hazel McDonald, Transport Scotland
11.55-12.15
Constructor drivers, business, risk, dynamics and tensions. Quality during construction; condition monitoring for construction purposes and for long-term monitoring and potential for overlap
Andrew Threlfall, Costain Group plc
12.15-13.00
Lunch break
Session 2: Design, failure modes, significance and effect of defects
13.00-13.50

Metallics – iron, steel, cables, riveted, bolted, etc (fatigue, stress corrosion cracking, etc) and specifics of civil usage of metalics
Adrienn Tomor, Brunel University London

Concrete (all forms)
Masonry (brick and stone)
Composites
13.50-14.00
Discussion on drawing out NDT/CM/SHM requirements


Session 1B: Understanding the industry – drivers, business, risk, dynamics and tensions

14.00-14.40
Designer drivers – design philosophy; structural integrity; lifing; past, current and future design philosophies; removal of personnel from harm and CDM (for example, probabilistic design). [Hammersmith bridge case study]
Tim Abbott and Leo McKibbins, Mott MacDonald Ltd

Asset life-cycle management, risk-based inspection (effect of climate change, carbon targets, etc)
Environmental drivers – net-zero requirements
14.40-15.00
Digital infrastructure (Industry 4.0) [Building information modelling (BIM). Digital twin/model]
Dr Miguel Bravo-Haro, Cambridge Centre for Smart Infrastructure and Construction
15.00-15.10
Discussion on drawing out NDT/CM/SHM requirements

15.10-15.30
Coffee break


Session 3: Breakout session
15.30-16.30
1. Ownership drivers and NDT and CM requirements

2. Contractor drivers and NDT and CM requirements

3. Design drivers and NDT and CM requirements

4. Design, failure modes and effect of defects – NDT and CM requirements
5. What would solve the challenges identified?

16.30-17.00
Breakout session debrief
17.00-18.30
Networking reception with wine and canapés sponsored by Inspectahire Ltd, MISTRAS Group, RCNDE and BINDT
18.30

Close of day one
Day two – Wednesday 29 June 2022

09.00-09.30
Tea, coffee and networking
09.30-09.50

Introduction – Briefing and summary of day one

Session 4: NDT/CM/SHM experiences from the field



Chair: Colin Brett
09.50-10.10
NDT/CM/SHM provider perspective
Jon Watson, MISTRAS Group
10.10-10.30
NDT supply chain perspective – concrete testing
Shirley Underwood, Screening Eagle Technologies
10.30-10.50

Examples in monitoring and load testing for civil asset management

Dave Cousins, James Fisher Strainstall
10.50-11.10
Coffee break
11.10-11.30

Designer perspective (trade-offs between rate, quality, cost, etc) – case study and feedback from conference Q&A session
Tim Abbott and Leo McKibbins, Mott MacDonald Ltd
11.30-11.50
NDT of civil structures in the nuclear power industry and future requirements
Phil Pearson
11.50-12.10
Discussion and requirements capture
12.10-12.40

Lunch break


Session 5: Potential future NDT and SHM improvements – transfer from other sectors

Chair: Caroline Bull
12.40-13.10
Lifecycle of NDT techniques – R&D, tech transfer routes, validation of techniques, personnel training and qualifications
Colin Brett, RCNDE and BINDT
13.10-13.25
Development of geoelectrical imaging for the remote condition monitoring of engineered structures
Professor Jon Chambers, Shallow Geo-hazards and Earth Observation Department, British Geological Survey
13.25-13.40

Capacitive (non-contact) resistivity imaging: technology transfer from applied geophysics to NDT



Dr Oliver Kuras, British Geological Survey
13.40-14.00
Muon tomography (cosmic rays)
Dr Jaap Velthusis, School of Physics, University of Bristol
14.00-14.20
The potential use of terahertz NDT on civil structures
Dr Mira Naftaly, National Physical Laboratory and Chair of BINDT/ICNDT Terahertz User Group
Session 6: Breakout session

14.20-15.20
1. NDT/CM/SHM experiences from the field
2. Benefits of future NDT and SHM improvements
3. Highest priority future requirements
4. Potential contributions from other sectors
5. Civil specific skills, training and certification requirements
15.20-15.40
Coffee break
15.40-16.10
Breakout session debrief
Session 7: Panel session

16.10-17.00
Key requirements and the way forward
17.00

Close of day two
For further information, contact: Events and Awards Department, The British Institute of Non-Destructive Testing,
Midsummer House, Riverside Way, Bedford Road, Northampton NN1 5NX, UK. Tel: +44 (0)1604 438300; Email: conf@bindt.org