Workshop on multicopters for inspection 2021
Wednesday 16 June 2021 Park Inn by Radisson Hotel and Conference Centre, London Heathrow, UK

Due to the escalating situation with regard to the coronavirus outbreak in the UK, BINDT has taken the decision to postpone this year's Workshop on Multicopters for Inspection, due to take place on Wednesday 1 July 2020.

The Workshop on Multicopters for Inspection will now take place on Wednesday 16 June 2021 at the Park Inn by Radisson Hotel and Conference Centre, London Heathrow, UK.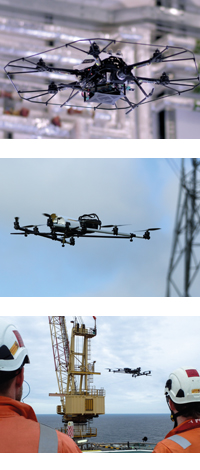 This event follows on from the successful 2018 workshop and will present delegates with information about the current progress of developments for multicopters, commonly known as drones, for carrying out aerial inspections of industrial and other assets.

Multicopters are

increasingly

being used to conduct inspections of locations that are difficult to access or hostile to human inspectors. Great cost savings have been made through the use of multicopters when compared to traditional inspection methods that often require scaffolding to be erected.

Drones can carry high-resolution cameras, thermal imaging or light detection and ranging (LIDAR) equipment. Recent developments include the deployment of ultrasonic sensors to take thickness measurements of remote components.

The aim of the workshop is to inform delegates of the legal, safety and training requirements, supported by case studies of a variety of applications, including oil & gas, wind turbines, rail, power generation and distribution.

Registration: £95.00 + VAT
Discount: BINDT Members - £10.00
The fee covers attendance at the one-day workshop, including tea/coffee breaks and lunch.

View or download a registration form and return it to the Conferences and Events Department, as listed at the bottom of this page.

Venue information:
The Park Inn by Radisson Hotel and Conference Centre is Heathrow's largest hotel and conference centre. It is located less than ten minutes from London Heathrow Airport and the City of London is just a short train ride away. With excellent transport links by road, rail and air, the Park Inn by Radisson Hotel benefits from a great London location.


Chair: C Brett

Time
Activity

Speaker

08.00-09.30
Tea, coffee and CM 2021 exhibition

09.30-09.50
Training for industrial inspections

B Barclay,
ECITB

09.50-10.10
Maximising efficiency of drone-captured data through digitalisation

J Foreman,
Cyberhawk

10.10-10.30

Flying drones in hazardous zones



M Murray,
Inspectahire

10.30-11.00

Tea, coffee and CM 2021 exhibition

11.00-11.20


Update on the development of a standard for visual inspection using UAVs



T Fong,
Offshore Renewable Energy (ORE) Catapult

11.20-11.40

Dry-coupled ultrasonic inspection from an over-actuated multicopter

R Watson,
Centre for Ultrasonic Engineering (CUE), University of Strathclyde

11.40-12.00

EMATs for drones – a practical method for ultrasonic inspections from air
F Cegla, P Khalili and A G Casanovas,
Imperial College London
12.00-14.30

Lunch and CM 2021 exhibition

14.30-14.50

Remote sensing applications in industry using drones

S Welland,
iRed

14.50-15.10


HOIS guidance for UAV-based external remote visual inspection



S Burch,
ESR Technology Ltd

15.10-15.30


Future developments in drone inspections



G Dobie and C McLeod,
Strathclyde University

15.30-16.00
Tea, coffee and CM 2021 exhibition

16.00-16.20


TBC





16.20-16.40

TBC

16.40-17.00

TBC

17.00-17.20

TBC

17.20
Close


For further information contact:
Conferences and Events Department, The British Institute of Non-Destructive Testing,
Midsummer House, Riverside Way, Bedford Road, Northampton NN1 5NX, UK.
Tel: +44 (0)1604 438300; Fax: +44 (0)1604 438301; Email: conf@bindt.org