Reliability of NDT webinar
About the event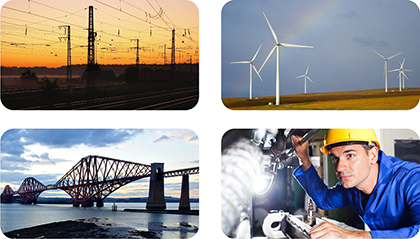 This one-day webinar will include two technical sessions, from 11h00-12h30 and 13h30-15h00, that will bring together experts and researchers in the field of reliability, with NDT specialists working in industry who will bring their perspectives on reliability issues and solutions.

A commercial session for exhibitors will also be held, from 12h30-13h30, to present products and services from the field of reliability. A charge of £100.00 + VAT for exhibitors will include a ten-minute slot to present or demonstrate and two reservations to the virtual Burns Supper.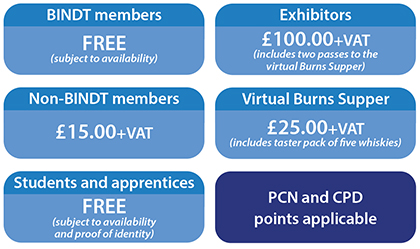 In the evening, from 20h00-22h00, the event will continue with a virtual Burns Supper. With music and songs, this celebration of the life and works of Robert Burns will also include online whisky tasting. This will follow the traditional Burns Supper format and a different malt whisky will be available for each toast. Five malts will be sent out in advance, upon receipt of registration, and expert guidance from a specialist Scotch Whisky retailer will be available on the night. There will be the opportunity for groups to breakout for private chats to enable networking opportunities. Further whisky will be available to order and there will be a free raffle for a good malt. An additional charge of £25.00 + VAT per head applies for the virtual Burns Supper and registration must be received by Friday 15 January 2021 to allow delivery of the whisky tasting kit due to the impact of Covid-19 restrictions. Places are limited so please book early to avoid disappointment.

Registration
A registration form MUST be completed in order to reserve a space and to receive the necessary link(s) to each session.
To view or download a booking form for the one-day webinar, click here.
To view or download a booking form for the virtual Burns Supper only, click here.


Programme

Time
Activity

Chairs/Speakers

10h45-11h00
Registration and networking

11h00-11h05

Co-chairs introduction

Dr M Farley and Dr I Baillie
11h05-11h25

The past and the future of human factors: the 'uncontrollable' aspect of NDT reliability?
Dr M Bertović, Federal Institute for Materials Research and Testing (BAM), Berlin

11h25-11h45

NDE 4.0 for improving the reliability of NDT for storage tanks construction

Dr S Babu, QA/QC Director, Rotary Engineering Pte Ltd, Singapore

11h45-12h05

Reliability of MFL for storage tank inspection

S Kenny, Eddyfi Technologies, UK

12h05-12h25

Procedures for improving the POD of GWT

A Parker, Guided Ultrasonics Ltd, UK
12h25-12h30
Session close

12h30-12h50

Lunch break

12h50-13h20
Commercial session
Chair: M Perston, Eddyfi Technologies, UK
12h50-13h00
ATFM for weld inspection

F Reverdy, Eddyfi Technologies, UK
13h00-13h10
Title to be confirmed
P Rogger, JR Technology Ltd, UK
13h10-13h20
Improving the reliability of eddy current NDT data
J Hansen, ETher NDE, UK
13h20-13h30
Title to be confirmed
S Hammer, Agility NDE Ltd, UK
13h30-13h35
Co-chairs introduction
Professor A Gachagan and M Perston
13h35-13h55

Research into reliability of NDT
D Kanzler, Applied Validation of NDT, Berlin

13h55-14h15

Title to be confirmed

J Allen, Doosan Babcock, UK

14h15-14h35

How well does certification ensure reliability?

Dr M Farley
14h35-14h55

Panel session

Chair: Professor T Gachagan
Panel: Dr I Baillie, Dr S Babu, Dr M Bertović and Dr M Farley
14h55-15h00
Close

20h00
Virtual Burns Supper with whisky tasting

For further information contact:
Conferences and Events Department, The British Institute of Non-Destructive Testing,
Midsummer House, Riverside Way, Bedford Road, Northampton NN1 5NX, UK.
Tel: +44 (0)1604 438300; Fax: +44 (0)1604 438301; Email: conf@bindt.org