Condition Monitor
International Newsletter of the British Institute of Non-Destructive Testing



Condition Monitor is a monthly newsletter published online by the British Institute of Non-Destructive Testing, designed to keep individuals and companies that provide condition monitoring products and services up-to-date with the latest developments from within the industry.

The publication contains news and views from the industry, feature articles on hot topics, abstracts of high-quality condition monitoring papers that have been featured in other publications and summaries of relevant patents of interest to the readership.

Since 2019, Condition Monitor has been available free of charge in digital format to individual BINDT members and is available to non-members by email via subscription.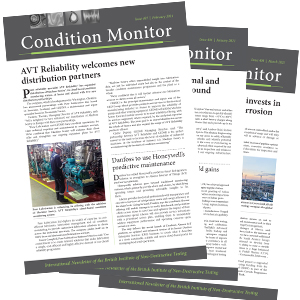 Click here to subscribe to Condition Monitor 2024.