PCN News
Certification Services Division – December 2019
| | | |
| --- | --- | --- |
| | Qualifications & Certification Talk | |
---

APPTRRA GLOBAL Norway
APPTRRA GLOBAL Norway has been withdrawn as an AQB and ATO. Any subsidiary of this company is also no longer authorised to conduct PCN examinations/training.
This is a standard withdrawal and does not affect candidates who have undergone training or examinations through this organisation.
Any certification already issued remains valid.
---
PCN ADVISORY DOCUMENT

To download the latest version of the PCN Advisory – PCN ADV-001 Form, click
here
.
---
PCN ADVISORY – PCN ADV-001
SUBJECT: IMPORTANT Notification of training/certification NOT accepted by BINDT and clarification of eligibility for examination

This advisory is being issued to all AQBs for information to identify accredited bodies and pre-requisite training NOT accepted by BINDT/PCN.

I have been notified that there have been recent requests for PCN AQBs to accept candidates for examination based on training certificates issued by Global Veritas Certification Service (GVCS). We believe this organisation may be linked to the company previously known as NDT International.

BINDT does not recognise any pre-requisite training from this or any other organisation linked to the company previously known NDT International.
PCN AQBs must not accept pre-requisite training for PCN examinations from the following three organisations, or any other that is linked to NDT International:

• Global Inspection and Certifications (GIC) www.gicgroups.com
• International Academy of NDT (IANDT) www.iandtcb.org
• Meena International Independent Personnel Certification (IPC) www.meenainternational.com

To re-iterate – eligibility for training:

PCN GEN issue 19
Clause 7.2. Training

7.2.1 To be eligible for examination the candidate shall provide documentary evidence of successful completion of a British Institute of NDT validated course of training at a BINDT ATO which covers the relevant part of the published syllabus (CEN ISO/TR 25107), that the candidate has satisfactorily completed training in the method and level for which the certification is sought. Please refer to www.bindt.org/education-and-training/training-courses/
7.2.2. For all levels, the candidate shall satisfactorily complete a course of theoretical and practical training recognised by BINDT.

If approached by any individual or company about this, or if there is any doubt about what training is recognised by BINDT, please raise your enquiry with me and/or the technical department at BINDT.
jennifer.cook@bindt.org
john.moody@bindt.org

Best regards

Jennifer Cook
CSD Office Manager
---
Technical department
BINDT now has a Technical & Industrial Department. Appointed in January 2019, the new department works closely with PCN and other departments within the 
Institute. To contact members of this department, email: technical@bindt.org


---
PCN ATOs/AQB status

Up-to-date contact details for all Approved Training Organisations (ATOs) can be found on the BINDT website at: education-and-training/bindt-approved-trainers

Up-to-date contact details for all Authorised Qualifying Bodies (AQBs) can be found on the BINDT website at: www.bindt.org/downloads/PSL4.pdf


---
PCN FAQ page


PCN has a 'frequently asked questions' page on the BINDT website at: www.bindt.org/downloads/PCN-FAQs.pdf

If you have any other PCN-related questions, please email: pcn@bindt.org
---
PMI Scheme


Certification Services will shortly be releasing the PMI Scheme for qualification of personnel who perform NDT applications of a limited nature with positive material identification.

Further details will soon be available at: www.bindt.org/certification/pcn-exam-requirements-and-document-download
---
All Engineering Council registrants now required to engage in CPD


One of the main functions of a professional body is promoting and supporting the professional development of its members. Continuing professional development (CPD) is the systematic acquisition of knowledge and skills and the development of personal qualities to maintain and enhance professional competence. All members have an obligation to undertake CPD and to support the learning of others.

Members should record their CPD activities and what they have learned or achieved through them and relate this to any planned objectives, thus helping to determine future needs and planning as part of a cyclical process.

BINDT is a Professional Engineering Institution (PEI) licensed by the Engineering Council (EC). For some time now, the EC has required all of its Licensed Members (including BINDT) to carry out a sample audit of registrants' CPD records. BINDT has decided to apply this policy to all members, whether or not they are registered with the Engineering Council.

Furthermore, from January 2020, the Engineering Council has stated that professionally active registrants who persistently fail to respond to, or engage with, requests for CPD records from a Licensed Member risk removal from the Engineering Council register. The names of individuals removed from the Register due to non-compliance with a CPD sample request will be made available to the other PEIs.

BINDT has elected to implement this policy by adopting a 'three strikes and you're out' approach, whereby if a registrant fails to submit CPD records when requested over a two-year period, the Engineering Council Working Group (ECWG) will assess the situation with a view to removing the member from the register.

Currently, a sample audit of professionally active registrants' CPD records is carried out annually using an independent peer review process. The sample does not include registrants who are not professionally active or those on career breaks for any reason (for example maternity or paternity leave, parenthood, unemployment and the like). Registrants may volunteer to take part in this sample audit process and a random sample of registrants is requested to submit CPD records. This process simply involves an independent review of an individual's CPD records, irrespective of format submitted.

Members should note that, at this stage, it is not BINDT's intention to penalise its members who cannot provide evidence of their CPD and there is no stipulation on the type or amount of CPD to be carried out. However, BINDT will continue to inform and advise its members on how they can get the very best out of their existing CPD activities and to signpost new opportunities.

CPD records may be submitted in any format, although members are encouraged to use the 'My Continuing Professional Development (CPD)' and 'My Career' tools on the BINDT website.

In order to provide a simple measure of achievement, the Institute has adopted a 'points-based' system for quantifying the value of CPD achieved by an individual member. Members are under no obligation to use this system, although it has been designed with a view to providing some guidance on the amount and types of activity that may provide a satisfactory level of CPD each year. The Institute's opinion is that a realistic target for most people should be 20 points per year, unless 20 points have been achieved by virtue of a successful recertification examination, in which case the target should be 30 points. A table on the BINDT website gives examples of CPD activities with a 'point allocation' for each1.

The 'My Continuing Professional Development' secure area of the BINDT website allows members to record their CPD activities and accumulate points for carrying out those activities. Points are accumulated automatically for each year.

One important feature is the 'Reflective Statement'; this is the essence of CPD and gives individuals the opportunity to indicate what they learned from the experience.

Another essential requirement is the need to have a future plan for CPD activities. The 'My Career' tab in the 'My BINDT' area is the place to record future work activities, as well as personal interests and ambitions.

The full details of both the 'My Career' and 'My Continuing Professional Development' sections can be printed out and appended to a CV, for example, thereby adding value for little additional work if the records are kept up to date. This online resource for BINDT members is a powerful tool that is central to career development.

1. www.bindt.org/education-and-training/cpd/cpd-records


---
Condition monitoring


Information on the BINDT CM certification scheme can be found on the Institute's website at: www.bindt.org/COMADIT/CM-Certification

---
Verification of PCN NDT certification

All employers, agencies and end-users of NDT personnel are encouraged to seek verification of PCN certification using the online verification tool at: www.bindt.org/pcn. To search, please enter the name or PCN number (do not enter both).


Alternatively, the PCN Verifier app can be downloaded at: www.bindt.org/publications/ndt-apps

PCN NDT certification data is updated in real time as a new qualification is issued. This also includes PCN CM certification.

---
New PCN ATOs/AQBs


Up-to-date contact details for all Approved Training Organisations (ATOs) can be found on the BINDT website at: www.bindt.org/education-and-training/bindt-approved-trainers
Up-to-date contact details for all Authorised Qualifying Bodies (AQBs) can be found on the BINDT website at: www.bindt.org/downloads/PSL4.pdf


---

Revised PCN aerospace training and examination requirements – are you ready?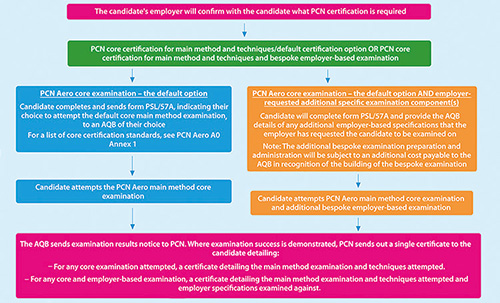 The world is constantly changing – geographically, politically and also economically. The introduction of new thinking and technological advancement means that the world of NDT is no stranger to this. With the introduction of change comes an expectation that the management of change will be through a structured and phased approach, ensuring that any change required is implemented thoroughly and smoothly for the lasting benefits of all.

In this instance, BINDT's third-party certification scheme, PCN, is no stranger to outside influence and has recently encountered a requirement to adapt and change in accordance with such external factors. The benefits of this change are to be communicated within this article.

There is a requirement for international standards to be periodically revised in order to meet the ever-changing needs of industry and the technological advancements made within those associated industrial or product sectors utilising NDT. Revised international standards, such as BS EN ISO 9712 for third-party personnel certification such as the PCN Scheme and EN 4179 for specific employer-based second-party aerospace certification, have to be considered in great detail to ensure that the certification products held by PCN Aero certificate holders are fit for purpose and complementary to their employers' needs.

With ISO 9712 and
EN 4179 currently under review and the potential effects of Brexit, the Institute has found it necessary to critically analyse its current offering for personnel certification within the aerospace sector (PCN Aero). This critical analysis has identified new opportunities borne out of revised standards and also allowed PCN Aero to reposition itself to meet the requirements of the European Union Aviation Safety Agency (EASA) and the UK Civil Aviation Authority (CAA).

As an organisation, BINDT understands the importance of keeping its partners and customers informed when change is required for the maintenance and upkeep of any personnel certification held. In this instance, the Institute has been mandated to make amendments to the PCN Aero scheme in order ensure its continued acceptance within the aerospace industry sector. Advanced knowledge of these changes will allow you to best position yourself for future success in any PCN Aero examination.

BINDT also understands that, when dealing with change, it is entirely natural for individuals and organisations to experience some level of natural resistance. Therefore, a little background knowledge of why changes have had to be made to the PCN Scheme should provide you with prior knowledge of how these changes may affect you and your organisation. This will make it easier for you to plan for and overcome any barriers that might arise before the introduction of the new examination requirements in February 2020.

It should be stressed that an implementation period has been agreed where both legacy (old) and revised PCN Aero schemes will run concurrently up to and including April 2020. The implementation phase is in place to address any teething issues encountered in order to ensure, as much as possible, a seamless transition for both you and your organisation.

The UK National Aerospace NDT Board (UK NANDTB) has published the document NAndtB/10 – Policy on Recognition of PCN Aero Certificates for NDT personnel operating under EASA Part 145, which provides a policy statement on recognition of PCN Aero certificates for NDT personnel operating under EASA Part 145 regulations.
NANDTB/10 – Policy on recognition of PCN Aerospace certificates for NDT personnel operating under EASA Part 145


In accordance with EN 4179, the NANDTB is entitled to recognise equivalency and it has agreed to recognise that PCN Aero will be seen by the Board as satisfying the qualification requirements of EN 4179. This includes PCN Aero examinations conducted at overseas PCN Aero-approved Authorised Qualifying Bodies (AQBs).

It remains the responsibility of the nominated Level 3 (as defined in the UK CAA GR23) to determine whether additional job-specific training and examination, covering the NDT processes and products utilised by the employer, is required.

In accordance with the requirements contained within EN 4179 and NANDTB/10, the UK NANDTB Board has confirmed that it will recognise the PCN Aero scheme. It will, however, remain the responsibility of the nominated Level 3 to determine whether additional job-specific training and examination covering the NDT processes and products utilised by the employer is required. The adoption of these principles within the new PCN Aero format provides full traceability for the responsible Level 3 to ensure that any additional job-specific training and examination can be verified in an examination which, where requested, will be allied to a core PCN Aero personnel certification examination at one of BINDT's AQBs for aerospace PCN Aero certification.

It should also be noted that PCN Aero certification issued as a result of success in a PCN Aero examination complies with the European standard
BS EN ISO 9712, which may also be used by employers of aerospace NDT personnel to satisfy the qualification requirements of the European standard for second-party employer-based certification, EN 4179, where PCN Aero has been acknowledged as a recognised scheme in terms of qualification.
The proposed changes


It will now be a requirement that, in order for an organisation to carry out PCN-approved training, the training organisation must now also be a BINDT Outside Agency (OA) in its own right.

An OA is an independent company or organisation outside the employer that provides NDT services to implement the requirements of EN 4179, such as training and examination of NDT personnel. Consultants and self-employed individuals are included in this definition. The UK NANDTB oversees the BINDT system for approval of OAs.

Any additional training associated with new equipment, new product lines, new operating practices, etc, is considered to be on-the-job training, which does not fall under the UK NANDTB remit but does remain as a function of an employing organisation's responsible Level 3
contained within CAA GR23 (Personnel certification for non-destructive testing of aircraft, engines, components and materials), details of which can be found within the CAP 747: Mandatory Requirements for Airworthiness, which is freely available at: https://publicapps.caa.co.uk/docs/33/CAP747_21JUL17_BM.pdf

The AQB/OA will now be given authority by BINDT to prepare and administer PCN Aero-specific examinations for each method within the PCN Aero scheme for which they are approved to do so, where:
The specific examination paper will be based upon a list of core specifications/standards as listed in Appendix 1 of the newly revised edition of PCN Aero, to be released in February of 2020.

The revised specific examination will now be considered an open-book examination, where the candidate will have access to the required standards and/or specifications necessary to answer the questions asked.

The candidate will be required to have an understanding of the referenced material on which the questions are based, rather than merely being able to find the specific referenced materials within the standard or specification.

In addition to the 'core' PCN Aero specifications listed within Appendix 1 of the revised edition of PCN Aero, the candidate may also be examined upon specifications in use at their employing organisation. This will be at the request of the employer, with all additional examination preparation costs incurred by the AQB/OA being payable by the employer.

Where the candidate is to be examined on 'employer-based specifications' in addition to the core PCN examination, the employer will make their requirements known to the AQB/OA at the time of booking on form PSL/57A and a separate additional contract will be agreed between both parties to cover the additional work required for bespoke examination preparation.

In both cases, where specific questions contain the requirement for a narrative answer to be provided, which carry more than one mark within an examination paper, the AQB/OA will provide appropriate marking guidance to the candidate.
The AQB will determine, in consultation with the candidate's employer, whether additional specifications/standards are to be included within the specific examination paper produced by the AQB prior to preparation of the paper. Where no other specifications/standards are advised, the specifications listed in Appendix 1 of the revised edition of PCN Aero will be applied as the default examination option.

It can now be seen that the specific PCN Aero examination, where required, can be tailored to a greater extent towards the requirements of an employer that chooses to use PCN Aero as its certification scheme. The specific written examination will determine an individual's understanding of operating procedures, codes, standards, product technology, test techniques, equipment, specifications and acceptance criteria relevant to the test method and level at which certification is sought.

The determination of the applicable operating procedures, codes, standards, product technology, test techniques, equipment, specifications and acceptance criteria will be via consultation with the candidate's employer for bespoke additional examination preparation in accordance with an employer's requirement, where the default core PCN examination option is not exercised.

Where success in a PCN Aero examination is achieved, the specific practical examination techniques demonstrated within the associated practical examination will be included on the candidate's certificate as an addition to the NDT method. For example:
Where the candidate has been examined for the method of electromagnetic testing (eddy current) and the candidate has demonstrated practical ability in an examination for high-frequency, low-frequency and rotary (open hole – dynamic) inspection techniques, these techniques will be added to the candidate's certificate to provide any current or prospective employer with details of the candidate's practical ability and competencies.

Where success in the examination has been demonstrated, a newly adopted certificate format will be issued to the candidate. This will be in the form of a single certificate for each method of certification that the candidate holds, rather than the current offering of one certificate containing, in many instances, limited details of certification in multiple methods contained within the one certificate.

Each individual certificate will contain details of all techniques from within the method for which the candidate was practically examined against, thus providing total transparency of the PCN Aero practical examination.

PCN is looking to release the certificates in electronic format to all successful candidates and their employers. This will speed up the delivery of certification and also reduce instances of undelivered/lost-in-post certificates. It is hoped that this will be of great benefit, particularly to those who may reside overseas.
In conclusion, where the 'old' practical examination only specified that the candidate had been examined against a set number of specimens, the new revised examination and associated certificate will provide details of the applicable techniques that the candidate was examined against from within the main method examination. This will allow PCN to satisfy the requirements of the aerospace standard EN 4179 for the qualification and approval of personnel for NDT mandated by EASA and the UK NANDTB and, at the same time, allow PCN Aero to remain in compliance with the international standard for third-party certification, ISO 9712.
Looking to the future


It is a cliché, but true, that the necessity of change is often all too difficult to accept. This is where BINDT is attempting to break the mould and arm the individual and employing organisation with the pertinent facts. By being informed of the impending changes in good time, some simple best-practice strategies and a well thought-out plan can be put in place to mitigate any discomfort. It goes without saying that, where change has had to be implemented, BINDT is just as committed to your overall success as ever before. BINDT believes that the changes implemented will only continue to strengthen the skills of any PCN-certificated aerospace inspection engineer.

If you have any comments or questions about the changes to the PCN Aerospace scheme or require further assistance with any other certification matter, please contact Jennifer Cook or a member of the technical team.
---
Approved PCN stamps


BINDT offers candidates the opportunity to purchase an approved form of stamp, which, when used in support of the usual signature, will positively identify the PCN certificate holder reporting the results of tests or authorising NDT instructions and procedures.


Two models of stamp are available:

Self-inking stamp.
 Approximate dimensions: 95 x 50 x 40 mm. Cost: £28.50 plus VAT.
 You can now include your PCN methods and levels – prices start at £28.50 plus VAT. 
Please note that this cost depends upon the amount of information to be added. For further pricing information please contact us by emailing: pcn@bindt.org
Rubber stamp.
 Requires separate ink pad (not supplied). Approximate dimensions: 70 x 30 x 25 mm. Cost: £22.00 plus VAT.
New! Coloured ink pads for self-inking stamps.
 Now available in red, green or blue at a cost of £3.50 including VAT.
A postage fee of £2.50 per stamp is added for delivery to UK addresses and a fee of £6.00 is added for airmail carriage to other destinations. Anticipated time from receipt of order to delivery is
10-14 working days.

The resulting graphic for both models measures 30 x 20 mm and includes the PCN logo, the surname and initials and PCN number of the holder. Reference is provided to www.bindt.org/pcn, where the status of PCN certification can be found by searching the name or PCN number of the stamp holder.

For an order form and further information on approved PCN stamps, see PCN document PSL/66, which can be found at: www.bindt.org/downloads/PSL66.pdf


---
Lost stolen or withdrawn certificates
All employers, agencies and end-users are advised that PCN certificates are only valid when presented with a laminated wallet card bearing the image and signature of the certificate holder.
The following staff at NDT International PTE Ltd have been banned from working with BINDT or another BINDT approved organisation permanently and had their PCN Certification removed indefinitely:

Mr G Venkataraman (PCN Number 309672)

Mr Francis Regis Joe (PCN Number 302284)

Mr Biju Pappu (PCN Number 325842)

Mr Venkaiah Vanka (PCN Number 329274)

Ms Lalitha Venkatesh

Mr C Thangachariman (PCN Number 333686)

Mr Andrew Harvey (aka A J Lourdes) (PCN Number 327730)

Mr K Kumaran (PCN Number 317701)

Mr R Ganesh (PCN Number 329206)

Mr G Narayanaswamy (PCN Number 329278)

Mr K V Sivaramakrishnan (PCN Number 313268)

Mr P Muthu Kumar (PCN Number 328063)

Mr Suman Dey (PCN Number 300332)

.

The following staff have been banned from working with BINDT or another BINDT approved organisation for a five-year period:
| | | | | |
| --- | --- | --- | --- | --- |
| Name | PCN no | | Name | PCN no |
| Sankar Ramasundaram | 310095 | | Aniket Ashok Sonawane | 331080 |
| Madan Lal Sharma | | | Kumaran Kannan | 317701 |
| Sherin Roopa Nancy | 326495 | | Arun Kumar Kandasamy | 320680 |
| Satish Naidu Bagadi | 325344 | | K R P Mahalakshmi | 326476 |
| S Mahesh Nainaganti | 323836 | | Anamika Roy | 332655 |
| D Roshan Kumar | 320920 | | Ankita Dutta Chowdhury | 332654 |
| Sharma Varun | 319564 | | Simul Dey | 305683 |
| Shiva Kumar Ramaraj | 310889 | | Dino Davis | 329769 |
| Venkatesh Srinivasan | 320027 | | Rini Baby | 334653 |
| Melvin Adaikalaraj | 319724 | | P G Shaju | 300859 |
| Thirunavukkarasu Sundar | 308177 | | Sridhar Yalla | 333872 |
| Roshin Issac Arakal | 327738 | | Anil Arjun Khond | 327757 |
| Bindhu Varghese Moolan | 328111 | | Rahul M Pathare | 327758 |
| Ganesh Ramadurai | 329206 | | Sagar R Jaiswal | 334352 |
| Jamsheed Salahudeen | 325501 | | Rajeev R Nair | 330884 |
| Narayanaswamy Guruswamy | 329278 | | D V V Narendra Kumar | 319741 |
| A Rajamani | | | Arul Vignesh Punniya Moorthy | 320026 |
| Muhamad Ridwan | | | Vediyappa Mudali Govindasamy | 310097 |
| Mrs Princy Shenny | | | P Muthu Kumar D Pandiaraj | 328063 |
| Pruthu Likhankar | | | Zuriadah Binti Hilal | |
| S Anantha Lakshmi | | | Manimohan | |
| S Karthik Kumar | | | Smitha Shaju | |
| Vinoth Kumar Balasubramanian | 312064 | | S Janani | |
| Edwin Antony Raj Selvaraj | 329404 | | Rama Kuna | |
| S Thiruvenkadam | | | Bindu Babu | |
Certification for PCN number 321410 – E014S62823239 (Phased array ultrasonic testing – Level 2) has been withdrawn.

---