NADCAP
National Aerospace and Defence Contractors Accreditation Programme
NADCAP – formerly National Aerospace and Defence Contractors Accreditation Programme. NADCAP is a cooperative programme of major manufacturing (particularly aerospace & automotive) companies aimed at providing a cost-effective approach to the management of special processes & certain products.

A special process is a QA term which refers to any process where the results of the process cannot be easily verified after completion of the process. Examples of special processes are: Non-Destructive Testing; Materials Testing; Heat Treatment; Coatings. The results of a special process are highly dependent on the control of the process and/or the skill of the operator.

NADCAP accredits the suppliers of special processes and is based upon industry consensus. The driving force for the accreditation is the commercial requirement for quality within the industries concerned. A NADCAP accreditation is recognised and accepted by all member companies – so one audit is good for all. The accreditation process is shown in the Figure.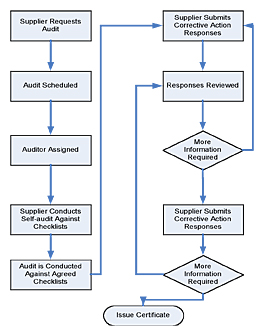 For more information on NADCAP see:
http://www.pri-network.org/Nadcap/
http://www.bindt.org/NANDTB/Nadcap.html
What the hec?! articles are not intended to be the definitive account on the topic or acronym in question. Readers' comments and contributions are welcomed. Email: ndtnews@bindt.org