PCN Stamps
Certification Services Division
BINDT approved stamps for PCN certificate holders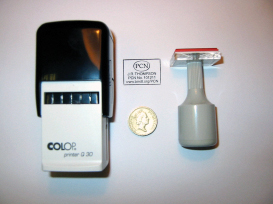 NOTE: We are accepting orders for PCN stamps, but please be aware that there will be a delay in processing and despatching all orders due to the current coronavirus situation, which is beyond our control.
Two models of stamp are available:



Self-inking stamp

– Approximate dimensions: 95 x 50 x 40 mm. Cost: £30.50 + VAT.


You can

now include your PCN methods and level – prices start at £30.50 +

VAT.



Please note that this cost depends upon the amount of information to be added. For further pricing information please contact us by emailing: pcn@bindt.org.




Rubber Stamp

– Requires separate ink pad (not supplied). Approximate dimensions: 70 x 30 x 25 mm. Cost: £23.00 + VAT.

New! Coloured ink pads for rubber stamps. Now available in red, green or blue at a cost of £3.50 + VAT.

A postage fee of £2.50 per stamp is added for delivery to UK addresses and a postage fee of £6.00 is added for airmail carriage to other destinations. Anticipated time from receipt of order to delivery is 10-14 working days.

The resulting graphic for both models measures 30 x 20 mm and includes the PCN logo, the surname and initials and PCN number of the holder. Reference is provided to www.bindt.org/pcn, where the status of PCN certification can be found by searching on the name or PCN number of the stamp holder.

For an order form and further information on approved PCN stamps, see PCN document PSL/66, which can be found at: www.bindt.org/downloads/PSL66.pdf