International Journal of Condition Monitoring
ISSN 2047-6426
The British Institute of Non-Destructive Testing is launching a new online journal for the international condition monitoring community – The International Journal of Condition Monitoring (IJCM).

High Quality – Innovative – Relevant
IJCM is a scientific-technical journal containing high-quality innovative in-depth peer-reviewed papers on all the condition monitoring disciplines, including: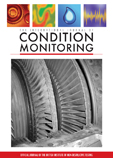 Acoustic emission methods

Electric motor insulation and signature analysis

Flow rate monitoring

Infrared thermography

Lubrication management

Optical monitoring

Pressure monitoring

Temperature monitoring

Vibration analysis
and also on:

Damage and failure analysis

Modelling for condition monitoring

Prognostics

Sensors and actuators
IJCM will be published four times a year online via IngentaConnect. It will be of interest to all those concerned with condition monitoring and will contain material that is highly relevant to a wide range of readers including engineers, technologists, academics, scientists and researchers.

A Professional Editorial Panel
The Editorial Panel of The International Journal of Condition Monitoring is made up of a cross-section of eminent professionals having recognised research and development activities and acknowledged international reputation in the field of condition monitoring. Some of these are also members of the International Advisory Committee of The British Institute of NDT's Condition Monitoring Conference and members of BINDT's Condition Monitoring Technical Committee.
Members of the International Editorial Advisory Board are recognised scientists having acknowledged international reputation:
Professor S Heyns (regional advisor responsible for Africa),
Professor A Hope (regional advisor responsible for Europe) and
Professor B Randall (regional advisor responsible for Australia).



Distinguished Editors


Managing the peer-review process in terms of suitability for publication, selection of referees and overall direction are IJCM's Editor, Corinne Mackle, and Technical Editors, David Gilbert, Professor Len Gelman and Professor Nirmal Bose.
David Gilbert has been a professional technical editor for more than 25 years. He graduated from the University of Leeds with a degree in Electrical and Electronic Engineering and, after a spell in industry, he went on to become Technical Editor of Vector, Southern Africa's largest electrical engineering journal. He joined BINDT in 1993 and is now CEO. He is a Chartered Engineer and Member of the Institute of Engineering & Technology.
Professor Len Gelman is Chair on Vibro-Acoustic Monitoring in the Department of Process and Systems Engineering in the School of Engineering at Cranfield University, Cranfield, UK. He is Chair of the Condition Monitoring Technical Committee of The British Institute of NDT; Director, Centre of Vibro-Acoustics and Fatigue; and Director, International Institute of Acoustics and Vibration.
Professor Nirmal Bose is the HRB Systems Professor of Electrical Engineering at the Pennsylvania State University (USA). He is a Fellow of IEEE, the Founding Editor-in-Chief of the International Journal on Multidimensional Systems and Signal Processing and Associate Editor for the Journal of the Franklin Institute, Circuits, Systems and Signal Processing and IEEE Transactions on Circuits and Systems.



Online paper submission and peer-review


Paper submission and peer-review for IJCM is handled online via a 'Manuscript Central' website (http://mc.manuscriptcentral.com/ijcm), operated on the same lines as used by IJCM's sister journal Insight, also published by The British Institute of Non-Destructive Testing.
Using the online system, authors are clearly guided through the submission process. They are also able to track the status and view the details of all their manuscripts in the peer-review system.
Reviewers have the ability to view, download and annotate submitted papers and editors can monitor and manage the whole process in a timely and efficient way.
Guidelines for authors may be downloaded from the submissions website.
The final decision to publish rests solely with the Editor, Honorary Technical Editor and Vice Honorary Technical Editor.



Online access


The full editorial contents of IJCM will be available online via

IngentaConnect

. All visitors will be able to gain free access to Tables of Contents and Abstracts of papers published.
BINDT members and IJCM subscribers (see below) will be able to view the full text (in PDF) of all papers and a pay-per-view facility will be available for non-members and non-subscribers.
For full details of what will be available and how to access it, contact the Institute or visit www.bindt.org where there will also be a direct link to the IJCM pages on IngentaConnect.



Subscriptions


IJCM is free to members of The British Institute of Non-Destructive Testing. Members may access IJCM directly via the My BINDT log-in area of the www.bindt.org website without having to log in a second time on IngentaConnect.

Non-members and institutions may take out subscriptions to IJCM at the following rate for 2020: £70.00 (up to four issues per year).

To download a 2020 subscription form click

here

.