BINDT Yearbook
The Official Yearbook of the British Institute of Non-Destructive Testing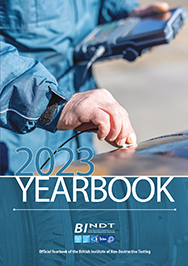 The BINDT Yearbook is regarded as the industry 'bible'. It is used extensively not only by those working in NDT and condition monitoring, but by users and potential users of equipment and services.
This regular reference work contains sections on Materials Testing Methods and Capabilities, a Guide to the Market Place (available on this site), a Buyers' Guide, NDT Certification, The Institute and detailed information on standards, books, periodicals, conferences, exhibitions, foreign societies and many other items all contained within one handy book.

Available for purchase by non-members, this essential reference is free to all members.
The 2023 edition is available priced £25.75 from the British Institute of Non-Destructive Testing. Order from shopBINDT available on this site.
Please also note that the Buyers' Guide information is also presented on this site.