Insight - Non-Destructive Testing & Condition Monitoring
The Journal of The British Institute of Non-Destructive Testing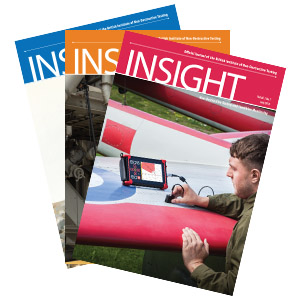 Insight – Non-Destructive Testing and Condition Monitoring is the Journal of The British Institute of Non-Destructive Testing. It was launched in April 1994, replacing the former British Journal of Non-Destructive Testing and incorporating, in quarterly issues, the former European Journal of Non-Destructive Testing. Insight is published monthly and circulated worldwide to more than 65 countries.

It covers NDT in its widest sense. Each issue includes technical articles on a broad range of subjects and general news stories affecting the whole industry.

Insight contains:
Technical and scientific reviews.

Original research and development papers.

Practical case studies and surveys.

Details of products and services.

Newsdesk – contract and marketing news from the industry.

NDT Info – the world's most comprehensive serially published survey of NDT literature.

Technical literature – a comprehensive review of relevant literature, including the latest international standards and safety information.

International Diary – comprehensive listing of information and Calls for Papers concerning relevant events, conferences, symposia and exhibitions.

Profiles on personalities and organisations associated with the industry.

Each issue embraces matter that is highly relevant to a wide range of readers, including engineers, technicians, academics and scientists, appealing to practitioners and young graduates alike.
Insight's features programme is engineered to provide a balanced platform with a broad scope, maximising readership appeal.

To download guidelines for submitting editorial material for Insight (PDF), click here.

Guidelines for Authors wishing to submit papers for publication may be downloaded by clicking the link in the left-hand column (PDF 144K).