The Roger Lyon Apprentice of the Year Award
Open award for members and non-members
Award criteria
Purpose: To recognise the best BINDT apprentice.

Details of the award: The award will consist of a certificate backed by cash for £300, an invitation to the NDT Annual Conference Dinner and one night's accommodation.

Eligibility: An NDT apprentice who has completed their end-point assessment through BINDT.

Nomination arrangements: All apprentices, of Operator, Technician and Engineer level apprenticeships, will be automatically shortlisted for this award once they have passed their BINDT end-point assessment.

Using the EPA scoring sheets, the prize will be automatically awarded to the highest scoring apprentice. Any top scores that are tied would be referred to the Education and Professional Development Committee (EPD) to decide the winner.

They could then attend the conference, at their employer's cost, or the exhibition, which is free of charge.

Awarding arrangements: The certificate and cheque would be awarded to the winner, at their choice of either the CM or NDT Annual Conference Dinner.

Committee: Education and Professional Development Committee.







---
Winners

2021/2022 winner: Matthew Beecroft

The Roger Lyon Apprentice of the Year Award for 2021/2022 has been won by Matthew Beecroft.

Matthew Beecroft started an NDT Engineer Level 6 apprenticeship in 2017 with Rolls-Royce plc, as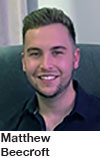 part of the 'Trailblazer' scheme. After leaving sixth form with A-levels in physics, maths and biology, Matthew chose an apprenticeship as opposed to following a conventional degree route. Through this, he has successfully completed a BEng (Hons) degree in NDT, Level 2 and Level 3 NDT approvals and registration as an Incorporated Engineer, as well as achieving a distinction overall in the apprenticeship in 2021.

Matthew now holds the position of NDT Level 3 and Site Controller at Rolls-Royce Barnoldswick, remaining passionate about apprenticeships through workplace apprentice mentoring and holding roles within BINDT's Early Careers Branch and Education & Professional Development Committee. Matthew also remains in contact with BINDT through his role as North West Branch Chair and Member of Council.

Past winners:

2018/2019 Douglas O'Hare

2019/2020 Douglas O'Hare

2020/2021 Lisa Grears


Details of all Institute awards can be found here.