Code of Ethics
Service Inspection Group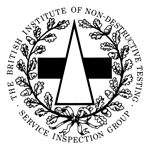 Members of the Service Inspection Group undertake to observe a Code of Ethics
approved by the Council of the Institute.


They are entitled to display the device above on stationery and livery
to signify their membership of the Group
.
SERVICE INSPECTION GROUP CODE OF ETHICS

Member Organisations undertake to respect the rules of professional behaviour contained in this code of ethics and are responsible that their managers, staff and associates do the same.
Members must only accept tasks for which they possess, or have access to, the necessary competence and organisation.
Each task must be accomplished solely in the legitimate interests of the client, and must be performed with all reasonable skill, care and diligence.
Members shall discharge their duties with complete fidelity. They must not disclose, without their client's authority, business or technical information of a confidential nature that they have learned in the execution of their tasks. Moreover, they must not make use, against their client's interests, of information supplied to them, and of the results of examinations, tests and research carried out in the accomplishment of such tasks.
No member shall act so as to injure, or attempt to injure, whether directly or indirectly, the professional reputation and prospects or business of another member Organisation – provided that this rule shall not be taken as prohibiting expression of technical opinion on behalf of a client before a tribunal or in a commissioned report, or of lodging a complaint of the conduct of a member to a competent body which lays down rules of conduct or code of practice.
Members must refrain from enticing or coercing staff of client's or other member Organisations to leave and enter their own service.
Members shall be entitled to promote their business by making factual statements through their employees or agents or in advertising or in other promotional matter but shall not make exaggerated or unjustified claims or invidious comparison or undignified announcement or illustrations or publish material or otherwise act in a way likely to discredit the profession as a whole.
Members must not offer to make payment, by way of commission or otherwise for the introduction of business except through accredited agents or brokers.
For every task members must inform the client of any direct or indirect connection with the contractor, fabricator, manufacturer, supplier or other commercial interest which might make their professional impartiality suspect.
Members must respect the personal and professional dignity of employees, colleagues and other persons, and the various persons or entities with whom they deal. Members must respectfully apply the laws, regulations, technical rules and accepted professional standards and must not accept contracts or instructions incompatible with such rules.