Latest Branch News
News from the Institute Branches
| Scottish Branch
2023 Scottish Branch Workshop
Mike Farley reports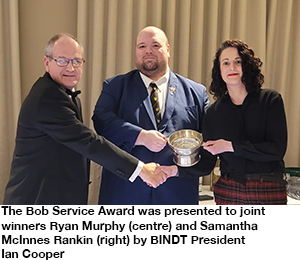 The Scottish Branch held its annual workshop, aligned to the Burns Supper event, on Friday 27 January at the Lynnhurst Hotel, Johnstone. This year, the focus was on 'NDT Solutions for Renewable Energy', with five presentations and a panel session sandwiching a busy exhibition session during lunch. There were five excellent speakers covering different aspects of the NDE chain: end-users, supply chain and research organisations, kept in line by the session Chairs Ian Cooper, Mark Perston and Tony Gachagan.

The Scottish Branch would like to thank Robert Sills (SSE), Liam Hanna (Eddyfi Technologies), Ian Cooper (TWI), Tim Bradshaw (Mistras Group) and Charles Macleod (University of Strathclyde) for a set of very interesting and informative presentations. The event included an engaging panel session, which provided a forum to delve deeper into the challenges and opportunities for NDT in the renewables sector. Mike Farley closed the event with a vote of thanks for all those who contributed, especially to the 17 NDE companies who participated in the exhibition.

Acknowledgement
The Scottish Branch committee, and the author of this report in particular, acknowledge the assistance given by BINDT staff, in particular Karen Cambridge, Sharon McNally and Sharon Creed, in the preparation for these events.

| Scottish Branch
Burns Supper 2023
Mike Farley reports


Robert Burns, Scotland's national poet of world renown, was born on 25 January 1759 and every year there are thousands of events held to celebrate his birth and life. The Scottish Branch has held its event almost every year since the early 1970s and was pleased to return to an in-person event at the Lynnhurst Hotel, Johnstone, this year. There were 95 people booked to attend, with excellent support from the companies that exhibited earlier in the day.

The President of BINDT, Ian Cooper, Past President Iain Baillie, the entertainers and the Chair for the event, Mike Farley, were piped in by Colin Johnston. Mike welcomed the guests and introduced Satunum McElroy singing the Burns' classic 'Ye Banks and Braes of Bonnie Doon'.

The haggis was piped in by Colin Johnston and the 'Address to the Haggis' was delivered, word perfect, by Jimmy Fraser. After the Selkirk Grace by Fraser Hardie, an excellent traditional meal was duly served and enjoyed.

Iain Baillie proposed a toast to the 'Immortal Memory of Robert Burns' and this was followed by a'gaithered standing for the playing of 'The Lament' by Colin Johnston. We then enjoyed a brilliant presentation of 'Tam O'Shanter' by Hugh Kerr and his wife Clair, followed by a beautiful rendition of 'Ae Fond Kiss' from Satunum.

Next came an innovation and break with the traditional programme, with The Elderberries band leading us in Ceilidh dancing, which worked off some of the excesses of the meal.

Scottish Branch committee member Charles Macleod proposed a humorous 'Toast to the Lassies' and Samantha McInnes-Rankin replied, matching his wit with a performance that deserved a longer slot.

It was then time for more dancing, culminating in an 'Orcadian Strip the Willow' and a piping melody by Colin Johnston.

Returning to tradition, President Ian Cooper said a few words about the Institute and the Scottish Branch in particular. He had the pleasure of presenting the Bob Service Award, which is presented annually to recognise exceptional achievement by a young person in NDT. This year there were joint winners: Samantha McInnes-Rankin (Babcock Rosyth) and Ryan Murphy (Evolution Fasteners) – congratulations to these worthy recipients.

The prize raffle was drawn and many prizes, kindly donated by many of the companies present on the day, were gratefully received by the winners. As a result, there will be a donation of £730 to the Benevolent Fund; thanks to all. The evening closed with a vote of thanks by Tony Gachagan and everyone joining hands to sing 'Auld Lang Syne'.