Latest Branch News
News from the Institute Branches – February 2020
| South Wales Branch
An introduction to GE Aviation Wales
Colin Macfarlane reports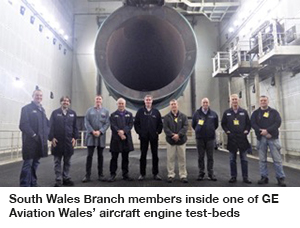 The South Wales Branch met at the GE Aviation Wales Aircraft Engine Repair and Overhaul plant in Nantgarw, Wales. After satisfying the security requirements and receiving visitor badges and personal protective equipment (PPE), we were guided by our hosts, Jason Richards and Steve O'Brien, to a conference room for introductions, refreshments and a light buffet.

When we were all settled, Jason gave a presentation, titled: 'An introduction to GE Aviation Wales'. He began by noting that every two seconds a GE-powered aircraft takes off. The presentation moved on to some significant events relating to the site, beginning in 1924 with the opening of an Imperial Airways facility in London. 1940 saw a move away from London to South Wales to avoid the air raids. The site became British Overseas Airways Corporation (BOAC) and then British Airways (BA) Engine Overhaul. In 1991, General Electric (GE) acquired the facility from BA. At this time, the aircraft engines being overhauled by the facility primarily supported the BA fleet. Jason highlighted the changes over the years up to today, with the site now covering approximately 1,200,000 ft2, with two state-of-the-art engine test facilities and more than 1400 employees. The facility is capable of overhauling over 450 engines per year and currently has more than 90 customers worldwide. The engines and associated aircraft are: GE90, the world's most powerful aircraft engine (Boeing 777), CFM56 (Airbus A320 and A340, Boeing 737), GP7000 (Airbus A380) and RB211 (Boeing 747 and 767).

The presentation continued with a description of the gate system used by GE to control the overhaul process, which comprises:

Gate 0: engine receipt, work scope, etc;

Gate 1: engine disassembly, clean and NDT and detail inspection;

Gate 2: repair internal/vendor repair, accumulation of serviceable parts; and

Gate 3: technical kitting module and engine assembly, engine test then certification.

Jason moved on with an overview of the GE Aviation Wales apprenticeship schemes. GE is one of the largest employers of apprentices in Wales, with approximately 100 engineering and business apprentices at this time. Jason stated that GE typically receives over 450 applications for the 25-30 engineering and business administration apprenticeship places available each year. In addition, there are some 60 university interns working on site.

The presentation concluded with a word on the significant effort GE invests in 'working with the community', which typically includes 3500 volunteer hours on up to 15 local projects, STEM undertakings with career days, site visits, work experience, numeracy initiatives, Women's Network, GirlsGetSET, etc, and GE-supported charities.

We then set off, guided by Jason and Steve, to tour the site and get our eyes on an actual aircraft engine! The route followed the gate process, where we saw 
GE90-115B and CFM56-7B engines being dismantled, firstly into separate modules and then into piece parts. We then glimpsed the cleaning process, before entering the impressively large fluorescent penetrant inspection and magnetic particle inspection section. It was amazing to see the myriad of parts, from discs, nuts, housings, vanes, etc. Next stop was the detail view bay, where the serviceability of parts is determined and any required repairs are identified. From there we entered the NDT section, comprising, along with the typical hand-held instrumentation, an immersion ultrasonic tank, automated eddy current systems and X-ray bays. Work was just starting on a major expansion of the department and the installation of another two ultrasonic immersion tanks and two automated eddy current scanning units. Next was a walk through Gate 2: repair and accumulation. It is amazing how all of these components made it back to the correct engine, bearing in mind it was estimated that there were approximately 90 engines on site in various stages of overhaul! From there, the tour moved on to engine build. Our hosts explained that, firstly, the modules are assembled and then bolted together to complete the engine. Our last stop was engine test, an amazing facility where we witnessed a GE90-115B engine being prepared for test. Unfortunately, there was not an engine on test at the time of our visit, but that did give us the opportunity to go into the actual, and very imposing, test cell, as shown in the photo above!

The South Wales Branch would like to express its gratitude to Jason and Steve for a very interesting, enjoyable and impressive visit to GE Aviation Wales.




| West Midlands Branch
(Apprentice)ship ahoy
Cameron Sinclair reports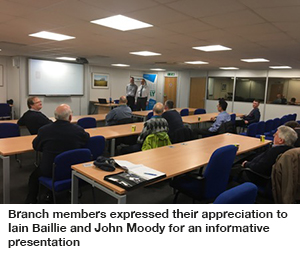 The West Midlands Branch held its fourth meeting of the 2019/2020 session on the evening of 14 January 2020, at which Dr Iain Baillie gave a presentation, titled: 'Apprenticeships – an employer's perspective'. There had been a change of speaker from the person originally publicised due to the sudden passing of Roger Lyon in September last year, whose very significant contribution to the development and delivery of NDT apprenticeships was acknowledged.

Iain Baillie is BINDT's President Elect and he is employed by Rolls-Royce plc, which is the Lead Employer with respect to the NDT apprenticeships. He has therefore made a very significant contribution to their development and delivery, which is also true of BINDT's John Moody, who was present at the meeting as co-presenter.
Iain gave an overview of Rolls-Royce's business, explaining why apprenticeships and apprentices are so important to it. Indeed, it was reported that Rolls-Royce has been running apprenticeships for over a hundred years. These must be very well-qualified apprentices!

Prior to the government's 'Trailblazer' initiative, NDT apprenticeships were generally associated with NVQ qualifications, which are not widely recognised in the industry. The NDT apprenticeships developed through BINDT, which are now fully up and running, lead to relevant certification in accordance with international standards such as EN 4179 or ISO 9712. They can also lead to registration with the Engineering Council at EngTech, IEng or eventually CEng level.

In short, the NDT apprenticeships are seen by Rolls-Royce, the 20 plus other sponsoring organisations, the UK government and BINDT as fully fit for purpose. Iain detailed the typical costs of employing an apprentice at Rolls-Royce to complete one of the NDT apprenticeships, but he went on to show how the government's contribution offsets these costs and how apprentices start adding value to Rolls-Royce's business after about six months. From Rolls-Royce's perspective, NDT apprenticeships are not only fit for purpose but apprentices add value to its business and to the 450 or so NDT-related suppliers.

Iain gave an overview of the NDT Operator, NDT Engineering Technician and NDT Engineer apprenticeships, the full details of which can be found on the BINDT website. His conclusions included the points that, for Rolls-Royce, apprentices add value, apprenticeships enable succession planning and, generally, the people engaging with these apprenticeships have an excellent work ethic and enthusiasm for the NDT profession.

The Branch was very grateful to Iain and John for the presentation and sincere thanks are also due to Doosan Babcock, which hosted the meeting and provided a range of delicious refreshments.

The next West Midlands Branch event will be on Tuesday 11 February. Details can be found on the BINDT website.