Latest Branch News
News from the Institute Branches
| Scottish Branch
Scottish events 2020
Mike Farley reports
The Scottish Branch is pleased to report several successful events, held on Friday 24 January 2020 at the Watermill Hotel, Paisley. The events complemented each other, leading up to the Annual Burns Supper in the evening. The day's events were co-organised with the Advanced Nuclear Research Centre (ANRC).

NDT equipment exhibition
15 companies (Agility, Ashtead, Chemetall, Druck, Eddyfi, ETher, GB Inspection, HTSL, JR Technologies, Novosound, Oceanscan, Olympus, Peak NDT, Sonatest and Zetec), plus BINDT and ANRC, exhibited this year, filling the room. The event ran from 10.00 am until 3.30 pm, with the attendance boosted during a morning coffee break and then an extended lunch by 70 attendees at the seminar. Feedback from the exhibitors was positive.

Seminar: NDT for the Nuclear Industry
30 years after the landmark NDE in the Nuclear Industry Conference held in Glasgow in 1990, this seminar reviewed the evolution of nuclear NDT, lessons to be learned in the nuclear and other industries and future research directions.

The morning 'industry session' was organised by the Scottish Branch and the afternoon 'research session' by ANRC.

Industry session
Co-Chairs John Whittle and Mike Farley, Past-Presidents of BINDT, introduced each of the speakers as shown in the programme and kept proceedings on time. Francis Hancock managed the computer projector with customary efficiency.

The full presentations can be accessed on the BINDT website at: www.bindt.org/events/PastEvents/ndt-for-the-nuclear-industry-seminar

Mike Farley, in a presentation co-authored by John Whittle and Tony Wooldridge, opened the seminar with a brief history of the nuclear industry in the UK taken from the book by Tony Wooldridge and Stephen Druce, 'Golden Egg or Poisoned Chalice?: The Story of Nuclear Power in the UK', available to purchase from BINDT, and a 'commercial' for the book.

He then set out to highlight some milestones in nuclear NDT, covering Magnox, advanced gas-cooled reactors (AGRs) and pressurised water reactors (PWRs), and spelled out some important lessons learned and implemented in the UK and beyond:

NDT has proven to be far more important in service than was expected when nuclear plants were being built. It has been and remains a vital component of the safety cases for life extension and continued operation beyond the original design lives of the plants.

There have been many examples of deterioration that were not predicted in advance and where NDT has proven to be important.

Design/modelling of inspections to take proper account of the defects to be sought during manufacture or in service, and not just following a code, is of great importance.

Design to permit inspection, both during manufacture and in service, is also of great importance.

Validation/qualification of NDT procedures, equipment and personnel has proven invaluable and has been adopted across Europe through the European Network for Inspection and Qualification (ENIQ) on all types of nuclear plant.

Training of personnel for specific inspections has proven to be essential.

Big lessons in how to achieve technology transfer have been seen: the people responsible for the research and development (R&D) did not just publish it and expect/hope others to follow but they moved with the technology into application.

John Allen, Doosan Babcock, presented: 'Nuclear NDT from a vendor's perspective'. He compared the implementation of the ENIQ qualification by two different customers in the nuclear industry. In both cases, a high quality of inspection is assured and continued investment in future-proofing personnel and equipment training, retesting, validation, spares and development is encouraged. The greater emphasis on qualified inspection in the nuclear sector has a tendency to slow down the introduction of new technology. John gave two examples of mutual technology transfer between the UK and France: ultrasonic inspection of high-density polyethylene (HDPE) welds, applied for ten years in the UK nuclear industry, is now being applied on cooling water pipes on French reactors, while eddy current arrays first used on steam generators in France are now being used in the UK nuclear industry.

Greg Innes, EDF Energy NDT Group, is responsible for the company's R&D in NDT and presented its 2020 R&D Roadmap. The company faces inspection challenges due to its ageing plant but also new opportunities, and the Roadmap has been restructured to focus on plant-driven risks. There is a focus on the reduction of dose and outage optimisation (eddy current arrays and phased arrays), improved capability for support of safety cases (particularly phased array and guided wave modelling) and enhanced engagement with industrial partners and R&D institutions.

Iain Baillie, Rolls-Royce plc, and BINDT President Elect, presented NDT lessons learned in his experience of aero engine NDT that could be of similar value in the nuclear industry. The ten lessons highlighted started with how to manage the process of developing and validating an NDT technique in response to an urgent in-service requirement. Then came Iain's NDT Toolbox concept:

Record things that are currently impossible to do with NDT or that the team are too busy to work on at the moment.

Feed the impossible ideas to the university and catapult network when they need collaborative projects to work on.

Assign more realistic projects to apprentices.

Some highly practical lessons followed: replicast neuters dye penetrant inspection (DPI); surface roughness critical for eddy current; awareness of wear of calibration blocks; avoiding mistakes by choice of connectors; simplifying language used in procedures; and defensive purchasing, including service agreements.

Caroline Bull and Richard Watson, AWE, gave a joint presentation. Caroline offered some information about AWE and highlighted the emphasis on training of graduates and apprentices in an organisation that seeks to be a top employer.

Richard, Capability Manager for NDT, gave a presentation, titled: 'NDE 4.0 – NDE/NDT data management'. He is following the principles of NDE 4.0 and developing data management systems for all of the methods of NDT used in the organisation.

Luke Carter, Office for Nuclear Regulation (ONR), presented: 'A regulator's view of lessons learned' on NDT in the context of the nuclear safety case (during manufacture, as part of commissioning and during operation), covering the basics of highest reliability NDT, why design for inspectability is so important and giving some examples of lessons learned on AGRs, Sizewell B and Hinkley Point C. He emphasised why reliability of NDT is so important; one important lesson is that it is often better to optimise design and conditions to facilitate NDT than to try to develop techniques to overcome poor access and surface issues. Qualification in accordance with ENIQ is critically important.

In summary:

There is a golden opportunity for every nuclear operator at the design stage to ensure the design will cater for appropriate fit-for-purpose NDT and high reliability where required.

It is possible, in most instances, to use a combination of engineering and NDT methods to back-fit inspection techniques to otherwise uninspected components, but this is often extremely costly and time consuming and often sparks significant interest by ONR.

'Expect the unexpected' is a common reoccurring lesson for everyone. As a nuclear regulator it still sees cases of unexpected degradation, hence why a conservative approach based on sensible classification of components is what we always expect as an approach.

Colin Bird, CB Inspection, has wide NDT experience in both the nuclear and oil & gas industries and set out to compare inspection in the two sectors. He gave a personal high-level overview based on his experience of published work and confidential projects. He set out to address a number of pertinent points, which in his experience are not widely understood:

The differences of purpose between inspection during manufacture for QA purposes, in-service inspection (to meet regulatory or insurance requirements) and inspection to extend plant life.

Inspection to a manufacturing acceptance standard leaves behind many acceptable flaws.

The oil & gas sector has a vast amount of trials data but regrettably it is not published. Recent trials continue to show that, as was true in the Programme for the Assessment of NDT in Industry (PANI) trials, unless special measures are taken (for example qualification of procedures, equipment and personnel) the likely probability of detection of a threshold level flaw is 40% to 60%. Qualification improves this dramatically to 80%.
General conclusions were:

A greater flow of information is needed each way between nuclear and oil & gas.

Neither industry is better at QA; both have their own sets of financial and safety drivers.

The training levels of the nuclear and oil & gas industries are generally quite different. Nuclear frequently supplements training.

Oil & gas rarely requires more than standard qualifications, unless it is an inspection code requirement.

Research session
Mark Gayfer, CEO, ANRC, gave a broad introduction to the objective of ANRC to be a leading international centre of excellence, focused on accelerating the development and deployment of new technology, delivered with the aim of reducing through-life costs and timescales in the nuclear sector. He explained that ANRC sets out to align industry needs, government policy and academic delivery. It pools funds from research grants and industry (around 20 companies to date) to provide >6:1 leverage for members and mostly works in the valley of opportunity at mid-technology readiness level (TRL) through six strategic programmes executed in the various departments/partners of the University of Strathclyde.

Dave Lines, University of Strathclyde, outlined recent developments for in-process weld inspection, aimed at greatly reducing the cost of manufacture of high-integrity parts. This can be done by inspecting at high temperatures between weld passes to provide immediate feedback on any anomalies and to ensure zero defects at the final inspection. This was achieved by using an angled ultrasonic phased array within a prototype high-temperature (up to 350°C) roller housing, which was dry-coupled to the metal surface to avoid any potential contamination. The whole process was performed in the university's robotic welding cell, where the weld pass, with optional deliberate defects, was then scanned by the roller assembly mounted on a separate inspection robot.

Key issues and strategies to address them were identified. These included the compensation for the temperature gradients that bend the beams and the suppression of false positives from the parts of the weld gap yet to be filled. The whole approach has been to adapt the existing international standards for ultrasonic inspection of welds to operate at the high temperatures. While this in-process inspection allows evidence to be collected for future evolution of the standards, there is already an immediate benefit by the reduction of manufacturing time and costs, with the final inspection to the existing standards ensuring the integrity of the process.

Marcus Perry, ANRC, spoke on 'Smart cement sensors – distributed, self-sensing cement coatings for concrete assets'.
Matt Warden, the Fraunhofer Centre for Applied Photonics, presented on 'Hydrogen detection on nuclear waste environments'. A prototype sensor has been developed that performs remote measurements of hydrogen gas concentration at a range of up to 30 m, with a sensitivity of 0.1% hydrogen gas concentration. This was developed together with Sellafield Limited, the National Nuclear Laboratory and the Game Changers programme. The Fraunhofer Centre for Applied Photonics is actively looking for other areas of application for this technology, both within and outside of the nuclear industry.

Graeme West, Electronic and Electrical Engineering, University of Strathclyde, gave a presentation on a project supporting EDF on the visual inspection of the graphite cores of the advanced gas-cooled reactors. A very brief background on graphite inspection was provided, followed by an explanation of the development of chanorama (channel-panorama) images, which have provided a step change for EDF Energy in the analysis of in-core inspection videos. This was followed by a description of the route to deployment from the university research concept at low technology readiness level through to industrial deliverable, an exemplar of the research outputs from the ANRC.

The presentation was concluded with an 'Address to nuclear power', a tribute to the joint themes of the event: Robert Burns and the nuclear industry.

Charles MacLeod, ANRC, presented a paper, titled: 'Research horizons in NDT', co-authored by Professor Tony Gachagan and his colleagues at the Centre for Ultrasonic Engineering (CUE). Inspection is critical to safe operation across many sectors and these share many common challenges:

During manufacturing: economic factors, production rate, reliability and accuracy, challenging conditions.

In service: coverage and speed, access and environment, ease of use, reliability and accuracy, safety, human factors, permanent installation, online measurement.

Charles identified key strategic topics against five-, ten- and twenty-year horizons following definitions used by RCNDE and gave a number of interesting examples being worked on at the University of Strathclyde.

Other meetings
BINDT hosted the online Annual Meeting of ICNDT on Thursday 23 January. ICNDT Chair Sajeesh Babu, Past Chair Mike Farley and General Secretary David Gilbert were present in person and joined by Professor Younho Cho (President of the 20th WCNDT), Professor I K Park (newly elected President of the Korean NDT Society and Chair of the 20th WCNDT) and Professor Pavel Mazal (Vice President of the Czech NDT Society). More than 20 representatives from NDT societies around the world joined the meeting online. The meeting approved the Annual Report for 2019, accounts for 2019 and the budget and fees for 2020. At the meeting a minute's silence was held to remember Roger Lyon, Professor Hajime Hatano and Professor Ioannis Prassiokanis.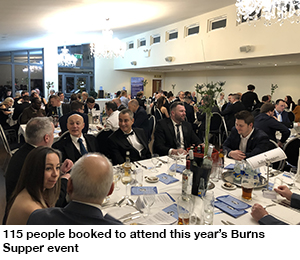 Annual Burns Supper
Robert Burns, Scotland's national poet of world renown, was born on 25 January 1759 and every year there are thousands of events held to celebrate his birth and life. The Scottish Branch has held its event almost every year since the early 1970s, more than 45 in all. In recent years, the event has become more popular and once again it was close to a sell-out with 115 people booked to attend, the same as in 2018, but this time this number was achieved without the benefit of many overseas visitors. 18 companies were present and most donated prizes for the 
raffle.

John Hansen, BINDT President, Iain Baillie, BINDT President Elect, the entertainers and Mike Farley, the Chair for the event (standing in for Professor Tony Gachagan who was indisposed) were piped in by Colin Johnston.

Mike welcomed the guests, including the BINDT President, President Elect, Vice President, Honorary Secretary, three Past Presidents of BINDT, a former Treasurer and David Gilbert, BINDT CEO.

The haggis was piped in and the Address to the Haggis was delivered, word perfect, by Jimmy Fraser. After a powerful delivery of the Selkirk Grace by Fraser Hardie, an excellent meal of cock a'leekie soup, haggis, neeps and tatties, steak pie and seasonal vegetables followed by raspberry cranachan with coffee/tea was duly served.

Raffle tickets were sold during the break and the entertainment started with Jan Cranston singing the Burns classic 'Whistle and I'll come tae ye my lad'. Peter McAlister, also back for a third year by popular acclaim, sang 'There was a lad born in Kyle' and proposed a brief toast to the Immortal Memory of Robert Burns. This was followed by a'gaithered standing for the playing of The Lament by Colin Johnston.

Scottish Branch member Charles Macleod of the University of Strathclyde proposed a humorous Toast to the Lassies and Caroline Bull replied, remarking that Robert Burns might well have been impressed by the number of lassies now working in the field of NDT. Jan and Helen then sang 'The banks of Doon'.

Once more the highlight of the night was Peter McAlister's superb rendition of Burns' epic 'Tam O'Shanter'. While perhaps not everyone in the audience followed every word of the old Scots dialect, everyone appreciated the energy of the performance and Peter's interpretation. Colin Johnston entertained with a Scottish Medley on the bagpipes and invited those brave enough in the audience to have a go in a competition. Four volunteers gave their best and based on audience acclaim the joint winners were Megan Donnelly and Stephen Docherty, both guests of Axiom Inspection Solutions.

Jan Cranstoun entertained with 'Ca' the yowes tae the knowes' and Peter McAlister came back to recite 'Scotch drink', a poem in which Robert Burns demonstrates his personal knowledge of Scotch whisky! Jan, in duet with David Gilbert, sang 'Ae fond kiss (and then we sever)' beautifully to close the entertainment.

The prize raffle was drawn and many prizes (mostly Scotch drink), kindly donated by the companies present, were widely distributed. As a result, there will be a donation of £640 to the Benevolent Fund. Thanks to all.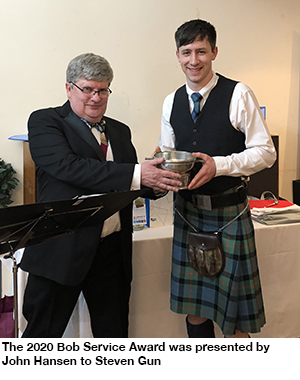 The 2020 Bob Service Award was presented by President John Hansen. The award is given each year to a person (under the age of 35) who has made a significant contribution to NDT in Scotland. The BINDT Scottish Branch was delighted to receive Bilfinger's nomination of Steven Gunn, who clearly fitted the criteria for this prestigious award. His positive attitude, self-motivation and excellent performance are exactly what the Branch looks for when considering nominations. We are pleased to see that he is progressing at Bilfinger and that he is continually striving for improvement. A well-deserved winner and we wish him good luck in his NDT career.

Two innovations completed the entertainment: a Burns sing-along led by Peter, David, Jan and Helen and an enthusiastic set of 'Strip the willow' taking up the limited space available for dancing.

The evening closed with a very funny vote of thanks by Craig Donnelly and everyone joining hands to sing Auld Lang Syne.

Acknowledgement
The Scottish Branch Committee, and the author of this report in particular, acknowledge the assistance given by BINDT in the preparation for the three events.



| North West Branch Notice

The North West Branch of BINDT is looking for NDT, condition monitoring (CM), diagnostic engineering and all other materials and quality testing-related professionals to join and/or help to run the Branch meetings. All NDT-related professionals are welcome to join the meetings, including NDT Level 2s and 3s, manufacturers of equipment, traders of NDT, trainers and anyone else interested in promoting NDT within the North West of England.

We are trying to establish whether there is enough interest to have a meeting every month or every two months (last working week of the month). Branch meetings typically run from August to May each year. The venue would be Safran Nacelles (Burnley), Bancroft Road, Burnley BB10 2TQ and meetings would last around 1.5 hours.

Many Branch meetings count towards Continuing Professional Development (CPD) requirements. If you are interested in supporting or attending any meetings, please email: marc@newgenndt.com; or tel: +44 (0)7915 088741. If anyone is willing or interested in providing talks to Branches, please contact: Cindy Bailey at BINDT (cindy.bailey@bindt.org)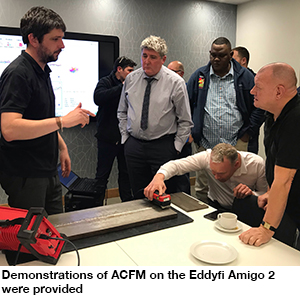 | Yorkshire Branch
An appreciation of the ACFM method
Amy Schofield reports

It was great to see a good turnout to the January Yorkshire Branch meeting following the festive break – thank you to everyone who ventured out on a pretty miserable, foggy evening. Andrew Waller, Level 3 NDT Tutor at Lavender International, provided an appreciation of the alternating current field measurement (ACFM) method.

ACFM was originally developed by a team of professors and lecturers at University College London in conjunction with companies for subsea use, with the aim of improving the reliability of underwater inspections, reducing operator dependence and providing auditable inspection records. It has since progressed to be used to test in a range of environments, including storage spheres and tanks, welds, bridges and infrastructure, drill threads, vehicle bodies (rail), surfaces at elevated temperatures, gear teeth and excavator welds (mining).

Andy talked through the basic theory of ACFM and explained how defects are detected and sized using the Bx and Bz signals. He also discussed the use of the butterfly plot as a confirmatory tool and the advantages of using ACFM over other methods. Such advantages include the ability to test equipment without the need for the removal of non-conductive coatings and the ability to test equipment with a greater coating thickness in comparison to eddy current testing.

Other major advantages of ACFM in comparison to eddy current testing are: the speed and ease of testing, which may be particularly useful when testing large areas; the ability to deploy remotely and, thus, potentially reduce health & safety risks; reduced sensitivity to lift-off; few false calls; and no calibration requirement. However, on the other hand, eddy current testing is able to detect smaller defects under ideal conditions and an argument could be made for the use of ACFM and eddy current testing in conjunction to provide more reliable inspection results.

Andy then provided demonstrations of ACFM on the Eddyfi Amigo 2 and attendees had the opportunity to have a go at testing a weld sample. Currently, there is PCN ACFM certification available for welds only; however, there is a BINDT working group that is looking to develop electromagnetic certification as a whole and such changes are hoped to be implemented over the next couple of years.




| West Midlands Branch
Good evening, your magistracy


Cameron Sinclair reports



The West Midlands Branch held its fifth meeting of the 2019/2020 season on the evening of 11 February 2020 at which Trevor Higginbotham and Kirsty Cooke, who are Justices of the Peace (JPs), gave a presentation, titled: 'The magistracy'.

Trevor has been in the non-destructive testing profession since the late 1960s, which is very well known to the Branch, and has been a JP since the early 1990s. Kirsty is also a JP and was one of Trevor's mentees when she first joined the magistracy. She very kindly agreed to co-present at this meeting.

It may not be immediately obvious why the magistracy might be of interest to BINDT members but, as Trevor and Kirsty made clear, there are many parallels. For example, the qualities required of a JP include personal integrity, trustworthiness, team working and the ability to make very difficult decisions in a timely manner. Furthermore, since magistrates are volunteers, it is something that suitable people can do alongside their 'day job'. As it turned out, the presentation was found to be very interesting to those present.

Trevor and Kirsty took a great many questions throughout their presentation, which started off with a bit of background and context. For example, the magistracy has existed since 1361, when the sentences handed down included flogging, hanging and deportation! JPs are ordinary members of the public; 80% of the 16,000 or so JPs are over 50 years old; 56% are women; and 12% have black, Asian or minority ethnic heritage. Clearly, the magistracy is appropriately diverse and inclusive, if skewed somewhat towards older, more experienced persons.

Trevor and Kirsty went on to outline the process, from arrest to plea (guilty or not guilty) to sentencing. If a not-guilty plea is made, the magistrates, who work in teams of three (a chair plus two 'wingers') must determine whether the person in front of them should be remanded in custody while awaiting trial or be released on bail. A number of facts about the process came as something of a surprise to the audience. For example, the granting of bail does not usually require a monetary bond (or surety). Also, all cases start in a magistrates' court; 95% are dealt with by the magistracy, meaning that only 5% are referred to Crown Court.

Trevor and Kirsty provided a lot of insight with respect to bail granting and sentencing decision-making, making reference to some very illuminating case studies. As they explained very authoritatively, JPs make decisions in order to ensure that the judicial process is fair and that the consequences are proportionate, with due regard to punishment, protecting the public, reforming criminals, providing reparation to victims and reducing criminal activity overall. It was all completely fascinating!

The Branch was very grateful to Trevor and Kirsty for the excellent 'food for thought' and sincere thanks are also due to Aerotech Inspection and NDT Ltd for the excellent food to eat (as well as providing the venue and presenting tokens of the Branch's appreciation to Trevor and Kirsty).
The next West Midlands Branch meeting will be held on Tuesday 10 March, see the BINDT website for details.




| South Wales Branch
Safety-critical applications for aero engines


Steve O'Brien reports



As tradition dictates for the first meeting of the year, the South Wales Branch was very pleased to welcome Dr Iain Baillie, President Elect of the Institute, to the Village Hotel, Cardiff.

The evening began with dinner, which included plenty of lively and entertaining conversations that were enjoyed by all. Following dinner, the group moved to one of the meeting rooms in the hotel, where Iain gave a presentation, titled: 'Safety-critical applications for aero engines'.

He began with an overview (source: Australian Transport Safety Bureau) of the uncontained engine failure of a Trent 900 engine on a Qantas A380 in November 2010 over Indonesia, detailing and showing photos of the damage that the liberated turbine disk caused both to the aircraft and property on the ground. Fortunately, nobody was injured.

Iain then moved on to explain that the reason for the failure was the fracture of an oil feed tube, due to a manufacturing issue, which caused a reduction in the thickness of this tube in one area.

The presentation continued with the timeline and various inspection methods that were proposed and trialled in the immediate aftermath, to ensure that this condition was not present on other in-service engines and not repeated during the manufacture of new parts. This included borescope, replicast, rotary eddy current and ultrasonic inspection, each with varying degrees of success.

This was followed by an explanation of the review by Rolls-Royce of the company's NDT strategy and on-wing technology, which identified the problems a significant event such as a disk failure creates with regards to the speed at which NDT inspection technology needs to be developed and inspectors trained.

Iain went on to describe solutions that have since been put in place to address the issues identified in the review, which included creating an NDT Toolbox, recruiting extra staff, recognising the need to develop inspection solutions (including new technologies) outside of emergency situations and identifying that this cannot be done at low cost; resources, staff and equipment are needed.

In conclusion, Iain noted that, in his opinion, two of the most important considerations are:
not to rely on a single supplier in emergencies; and not to think 'it's impossible', but instead seek solutions. Put these challenges on your to-do list and give to RCNDE, AxRCs/TWI, Consultants, OEMs, etc.

The South Wales Branch would like to express its gratitude to Iain for a very interesting, informative and enjoyable presentation.