Branches & Committees
Institute Branches
Just as the Specialist Groups bring together like-minded people, so do the Institute's Branches. Meetings are held from September through to May and are designed to appeal to all members, satisfying the technical and social needs of members in each Branch area. Joint meetings provide a wider perception of the engineering industry associated with NDT and enable members of other societies and institutes to appreciate the benefits of NDT to their industry.

The full Branch meeting programme is published each August as a separate booklet (and full details are also included here). With Branches meeting throughout the season, there must be a meeting of interest to you nearby.


Institute Committees


The Institute has eight propositions through which stakeholders engage with BINDT, spearheaded by its marketing and PR capabilities and underpinned by its IT capability, its 'establishment' (people, premises and facilities) and its partners.

Figure 1 shows the Institute's committee structure in schematic form. Further details on the committees is listed on the menu to the left.

The key committees have oversight responsibility for BINDT's operations and the execution of the strategic plan, as shown in Figure 2. They report to BINDT's Council (Trustees) and are, in some cases, empowered to make decisions on behalf of Council (for example membership and registration).

The committees are:
Governance Advisory Committee

Finance Committee

Establishment Review Committee (ERP)

Croxson (Awards & Recognition) Committee

CM Technical Committee (CMTC)

NDT Technical Committee (NDTTC)

Trade & Industry Executive Committee

Membership, Qualification & Education Committee (MQ&E)

Certification Management Committee (CMC)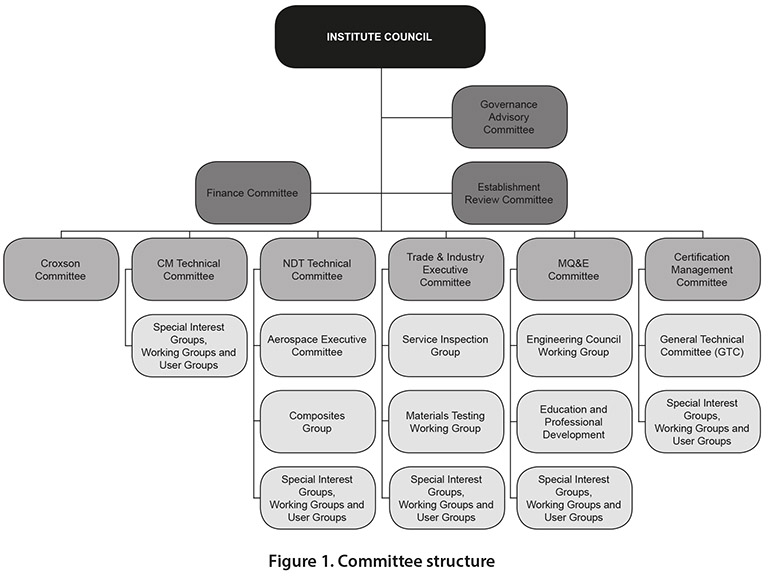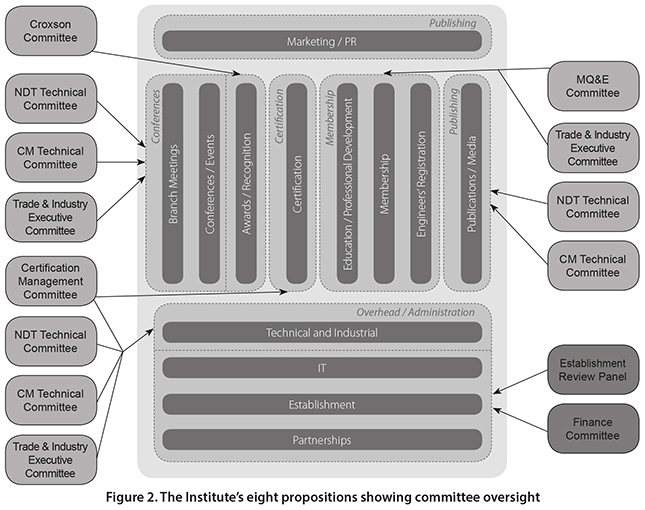 Special Interest Groups
The institute has a number of groups that meet the specific needs of members with particular interests:
Composites Group

NDE 4.0 Group

Service Inspection Group (SIG)

.
Working Groups
Engineering Council Working Group

Liability Working Group

Materials Testing Working Group

NDT and CM Certification Working Groups

Standards Working Group

Working Group on NDT for Heritage Boilers.


User Groups
Current User Groups include:
Technique Validation and Qualification User Group

SHM User Group

Air-Coupled Ultrasound User Group

FMC User Group

Non-Linear UT User Group

Millimetre-wave and Terahertz User Group.

Membership of all groups is open to members (and in some cases non-members) at no additional charge. Group members benefit from discussion of current topics of interest or controversy and from the interchange of views between individuals all sharing a specific common interest. As a group, they can influence affairs that they couldn't as individuals.

For further information, contact Cindy Bailey at the Secretariat (cindy.bailey@bindt.org).