Information for Employers



In order for employers to fully understand the requirements of the particular apprenticeship scheme they are interested in, it is essential that they read the appropriate apprenticeship standard, the apprenticeship assessment plan and the apprenticeship on-programme competency document, all of which, together with other essential documents, can be found on the apprenticeship document download page.

To view or download a leaflet detailing NDT apprenticeships, click here.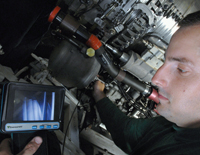 • Recruiting an apprentice
• Funding your apprenticeships
• Requirements for employing an apprentice
• Definitions



If you are interested in employing an apprentice, a summary of the activities required is given below:
Decide whether to be involved in an apprenticeship scheme

Choose which apprenticeship scheme is applicable

Inform the professional body (BINDT)

Choose an NDT training provider, preferably a BINDT ATO

The employer, in conjunction with the NDT training provider, will choose a lead provider to partner with in order to access government funding

Recruit/identify an apprentice

Make an apprenticeship agreement

Develop a training programme (Gantt chart) to meet the requirements of the apprenticeship standard

When applicable, select training subcontractors

Select an independent assessment organisation (BINDT is an independent assessment organisation and you are encouraged to select BINDT as your end-point assessor).
It is important during the apprenticeship that you develop the culture in such a way that the apprentice wants to continue working for you on completion of the apprenticeship. You can do this by valuing the apprentice as a person, developing mutual trust and respect, maintaining confidentiality, listening both to what is being said and how it is being said, helping the apprentice to solve his or her own problems, rather than giving direction, and focusing on the apprentice's development and resisting the urge to produce a clone.




Funding your Apprenticeships



Future Funding Arrangements – from May 2017 onwards

The trigger for employers paying the apprenticeship levy is if the employer's pay bill exceeds £3 million. The government is also giving an allowance of £15,000. Only 1.3% of UK employers will pay the levy.

Levy payers – The levy will be paid into an employer's digital account, which can then be used to fund training up to the designated cap. If, at any stage, an employer has insufficient funds in their digital account, then the government will provide 90% of the funding and the employer will provide 10% of the funding.

Non-levy payers – will pay 5% towards training, which will be supported by a further 95% provided by the government. Employers with fewer than 50 employees will have 100% of the training and assessment costs covered when training a 16 to 18 year old.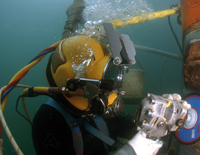 For levy and non-levy payers – The government will pay £1000 to employers and a further £1000 to training providers if they train a 16 to 18 year old apprentice. The expiration of digital funds has now been extended to 24 months, helping employers to prepare for the new system and to adapt training programmes; this means that levies paid in year one will be available throughout year one and up to the end of year two. Every apprenticeship will be placed in a funding band; the upper limit of each funding band will cap the maximum amount of digital funds an employer who pays the levy can use towards an individual apprenticeship. There are now 15 new funding bands, ranging between a cap maxima of £1500 to £27,000; existing apprenticeships will be re-allocated to one of the new bands.

The new funding system comes into effect on 1 May 2017. Levied employers buying training from May 2017 can commit to apprenticeship starts from the beginning of May. Funds will automatically leave the digital account on a monthly basis and the cost will be spread over the lifetime of the apprenticeship; the government will hold back 20% of the total cost, to be paid on completion of the apprenticeship. Non-levied employers buying training from May 2017 continue to make payments direct to providers and will move onto the digital system at a later date.

Digital funds and government funding can be used for apprenticeship training and assessment against an approved framework or standard, with an approved training provider and assessment organisation, up to the funding band maximum for that apprenticeship.

Digital funds and government funding cannot be used for wages, travel and subsistence costs, managerial costs, traineeships, work placement programmes or the costs of setting up an apprenticeship programme.

Apprenticeships started before 1 May 2017 will be funded through to completion according to the existing rules.



Costs



There are a number of costs that are associated with an apprenticeship and these will have to be paid for by the 'two-for-one' matched funding allocation. These costs include:

External training, certification and qualification costs

Lead provider management fee

NDT training provider management fee (if applied)

Independent assessment organisation fee

Professional body (British Institute of NDT) fee (free).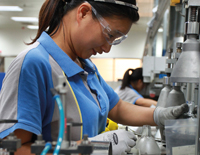 Requirements for Employing an Apprentice

Your business can work with an NDT training provider that is approved as an 'approved training organisation' (ATO) by BINDT, or you could work with another suitable training provider, to create an apprenticeship programme (note: it is mandated in international standards that NDT training must be provided by an ATO). The intention is for employers to work with a single NDT training provider for all of their apprenticeship needs. The NDT training provider will then partner with a lead provider that has a government allocation of funds for apprenticeships. However, the employer could work directly with a lead provider, which could act as the NDT training provider, but if the lead provider is not approved to provide NDT training, ie an ATO, then the NDT training would have to be sub-contracted to an organisation that is approved as an ATO. If the lead provider or NDT training provider cannot provide all of the specific training needs, for example health and safety requirements, then the lead provider will sub-contract out the shortfall in training requirements. The NDT training provider will manage all of the employer's training requirements so that the employer will have a single point of contact for the duration of the apprenticeship. The employer has the final say on which NDT training provider to use and which sub-contractors the lead provider will use.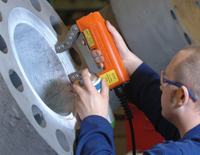 As an employer offering an apprenticeship you need to:

Employ an apprentice for a minimum of 30 hours per week

Pay at least the national minimum wage for apprentices

Induct the apprentice and support their on-the-job learning using skills and knowledge in the workforce

Be involved in reviewing the progress of an apprentice.
An NDT training provider can offer support to an employer to:

Identify the apprenticeship that fits your business requirements

Recruit an apprentice

Develop a training plan that reflects the apprentice and employer requirements

Review and test the progress of the apprentice and provide feedback

Provide training to support the knowledge elements of the programme.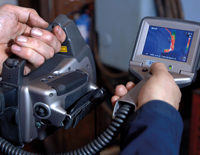 You should think about including some or all of this content in your apprenticeship:

On-the-job coaching and learning

Off-the-job learning

Employer induction and training

Online learning and support

Workbooks

Projects

Mentoring and line management support

Specific training for individuals

Supervised NDT experience.
NDT training can only be delivered by BINDT approved training organisations (ATOs) and examinations leading to the issue of a certificate or letter of approval can only be delivered by authorised qualifying bodies (AQBs).

Taking on an apprentice is a commitment for the duration of the apprenticeship; you cannot make an apprentice redundant. If, during an apprenticeship, there are changes in circumstances or financial difficulties, you should contact the Skills Funding Agency for advice.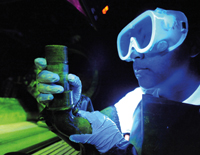 Definitions

ATO – an organisation approved by BINDT to act as an approved training organisation.
BINDT – the British Institute of NDT (the professional body for the NDT sector).
Gantt chart – a bespoke chart used for planning a project or a period of activity (an Excel spreadsheet or similar software will do just as well).
NDT training provider – a training organisation selected by the employer to provide the training requirements for the apprenticeship.
Prime lead provider – a lead provider that is on the SFA register of training providers and which has an allocation of funds for the delivery of apprenticeships.
SFA – Skills Funding Agency (a sector within the government department: Business, Innovation and Skills).






For further information about how to promote your apprenticeship as an employer, click here.

For further information contact:
The British Institute of Non-Destructive Testing, Midsummer House, Riverside Way, Bedford Road, Northampton NN1 5NX, UK.
Tel: +44 (0)1604 438300; Fax: +44 (0)1604 438301; Email: apprenticeships@bindt.org