PCN Verification Form
NOTICE
Please be aware that there will be a delay in the despatching of certificates due to the temporary partial closure of the BINDT offices in Northampton.
The BINDT telephone lines will therefore be unmanned for the time being and you are asked to contact the Institute via email, where our staff will endeavour to respond as soon as possible. Please continue to submit enquiries via email to the relevant department.
If your enquiry is in relation to PCN certification, please email:
pcn@bindt.org
If your enquiry is in relation to a Level 1 or Level 2 CP16 renewal application, please email:
renewals@bindt.org
If your enquiry is in relation to a technical query, please email:
technical@bindt.org
If you enquiry is in relation to an audit, please email:
audits@bindt.org
This certificate verification facility continues to be updated on a regular basis. We therefore urge employers to use this resource, or the PCN Verifier smartphone app.
PRESSURE EQUIPMENT DIRECTIVE (PED)
The British Institute of Non-Destructive Testing (BINDT) has agreed a robust certification process with an EU27 Recognised Third Party Organisation for the certification of NDT personnel. This process is fully compliant with CEN/TR/15589 Route B requirements and allows BINDT/PCN to issue certification that is acceptable under the European Pressure Equipment Directive (PED) 2014/68/EU, Annex 1 § 3.1.3.
BINDT has received an appointment from WQ-iC Limited, a Recognised Third-Party Organisation (RTPO) and Notified Body (NoBo No. 2893) based in Dublin, Ireland. WQ-iC is a member of the Lloyd's Register Group of companies.
If you have an existing valid certificate in sectors 2 or 6 and want a supplementary certificate to allow continued working under the European Pressure Equipment Directive under the Scheme, then please take the following simple steps before 30 June 2021: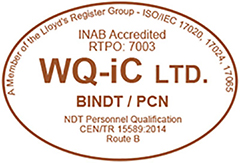 Use this page to check any of your certification details before proceeding, use the search facility to see them. Then click on the WQ-iC logo to go to the WQ-iC website.
When on the WQ-iC website, search using your certificate number.
Your details will come up as approved by WQ-iC Ltd and you can print a document to demonstrate your PCN certificate has been accepted by WQ-iC. If required, you can contact WQ-iC directly, by e-mailing applications@wq-ic.eu, to request a copy. You will need to provide proof of address and identity.
Your approval is considered to be valid from 1 January 2021 and is valid until the normal expiry date of your current PCN certificate, subject to maintaining compliance with the WQ-iC Scheme.
In order for your certification to be validated, please go to the WQ-iC website and complete the form named "BINDT/PCN – Individual Agreements" in the "Services" tab. Failure to do so by 30 June 2021 will invalidate your approval and it will be removed from the WQ-iC approved list.
Use the form below to search for PCN certified NDT practitioners. Put in any part of the name or PCN number of the practitioner if you know it. Put a tick next to a sector or method to restrict results to practitioners with the appropriate skills.