Publications
The British Institute of Non-Destructive Testing produces a wide range of publications covering all aspects of non-destructive testing, condition monitoring, diagnostic engineering and all other materials and quality testing disciplines.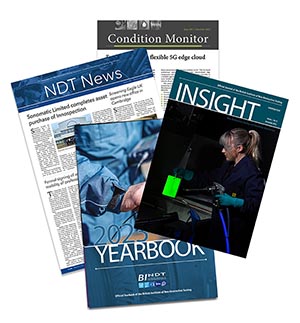 Insight – Non-Destructive Testing and Condition Monitoring
Insight, the Institute's monthly journal, is circulated worldwide to more than 65 countries. It covers a broad scope and appeals to a wide audience in the NDT, condition monitoring and associated sectors. Essential reading for all those involved with NDT, condition monitoring and associated technologies, Insight is the only truly international, dedicated and professional NDT journal.
NDT News
The newspaper for NDT, inspection, condition monitoring and quality practitioners. NDT News is circulated free to BINDT and IAQP members; and additionally to PCN certificate holders in March, June, September and December.


Condition Monitor
Condition Monitor is a monthly online newsletter, owned and published by the British Institute of Non-Destructive Testing, designed to keep individuals and companies up-to-date with developments and news within the condition monitoring industry. As of 2019, Condition Monitor is available to individual members online free of charge and is available to non-members through subscription.
The BINDT Yearbook
The BINDT Yearbook is regarded as the industry 'bible'. It is used extensively not only by those working in NDT and condition monitoring, but by users and potential users of equipment and services. This regular reference work is free to all members and available for purchase by non-members priced £25.75.
Branch Meetings Programme
The British Institute of NDT has Branches throughout the UK. Membership of a Branch is free and members and guests are made very welcome. Activities during the UK winter season vary from relevant technical presentations, hands-on experience of new equipment, visits to NDT sites, table-top exhibitions, as well as social functions, details of which are contained in this booklet.

Books
The Institute has an extensive list of titles covering NDT and associated topics. Books published by the Institute are available to members at a considerable discount. Visit shopBINDT to browse all the titles available.


ICNDT Journal
The ICNDT Journal – the official newsletter of the International Committee for Non-Destructive Testing – contains news stories from around the globe, reports from regional groups in Africa, Asia-Pacific, Europe and Pan-America, the latest developments in training and certification, and details of upcoming events taking place all over the world.