HewSaw Sweden invests in online system
28/06/2019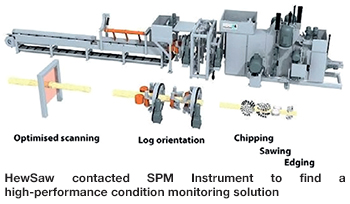 HewSaw Sweden, a manufacturer of sawing machines, has installed the HewSaw R200 1.1 at VIDA Wood Nössemark in Sweden.

VIDA Wood manufactures and sells construction timber and boards worldwide, with the most significant markets including the UK, Sweden, Denmark, the USA and Japan. To maintain a consistently high quality in VIDA Wood's production, HewSaw contacted SPM Instrument to find a high-performance condition monitoring solution with a focus on data quality and Industry 4.0 to match its high-tech products.

The company chose Intellinova® Parallel EN. Intellinova Parallel EN is the latest and most advanced online system from SPM Instrument, consisting of 16 parallel channels that provide high performance and flexibility in terms of measurement configuration. The system will be completed with 26 DuoTech accelerometers and eight temperature transmitters. DuoTech combines vibration and shock pulse measurement in a single sensor.

The solution will incorporate a condition monitoring service from SPM in which a deteriorating operating condition is reported to the customer via the SPM ServiceNet web portal. Personnel working for the customer will also attend a basic course in condition monitoring at SPM Academy and receive system-specific training on site.