The Hugh MacColl Award
Open award for members and non-members
Award criteria


Purpose: To recognise the contribution by an individual to teaching, training, education and professional development in NDT/CM/SHM over a period of at least 2-10 years.

Details of the award: The award will consist of a certificate backed by £350 cash, an invitation to the NDT Annual Conference Dinner and one night's accommodation. In the case of a group award, the invitation to the NDT Annual Conference Dinner will be made to one representative.

Eligibility: For a significant contribution over a period of at least 2-10 years by an individual to teaching, training, education and professional development in NDT/CM/SHM.

The proposer of the award should be a voting member of the Institute. If they are not, they will need to ensure the application is endorsed by an Institute voting member.

Frequency: The prize will be awarded annually and will only be issued if suitable nominations are received.

Nomination arrangements: Nominations should be submitted by email to: karen.cambridge@bindt.org

Nominations for the award will be reviewed by the Membership, Qualification and Education (MQ&E) Committee. If there is only one nomination, then MQ&E should vote to confirm whether the nomination is eligible and, if so, to approve the award.

If there is more than one nomination, then the entries should be sent for judging by a panel set up for the purpose. Four members of the panel are to be appointed by MQ&E. Each judge will be invited to score the entries on a point scale of 0 to 3 and send the scores to Karen Cambridge, who will total the scores, and the entry receiving the most points will be declared the winner.

Awarding arrangements: The award will be made at the NDT Annual Conference Dinner and will be awarded by the Chair of MQ&E.

Committee: MQ&E Committee.
---
Winners

2022 winner: Sam Cunningham

The Hugh MacColl Award for 2022 is awarded to Sam Cunningham.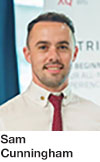 Sam Cunningham has been working in the non-destructive testing (NDT) training and education sector since 2009, working for several major NDT training schools across the UK. Since the conception of the NDT apprenticeship programme in 2015, Sam has committed his career to developing the next generation of NDT professionals through the delivery and promotion of this scheme to industry across the country.

Sam has helped over 250 individuals to access a new career in NDT through the promotion of this scheme, from 2015 to the present day. While he will confess to not being the most technically competent person in NDT techniques, he can proudly state that he is one of the most passionate individuals helping to promote the NDT sector and to ensure that the industry continues to produce NDT talent through accredited and structured training programmes.

Past winners:
1989 Chief Tech G Metcalfe
1990 Mr G Elliott
1991 Mr M J Nicholas
1992 Dr S R Oaten
1998 Mr K Coultate
1999 No Award
2000 No Award
2001 No Award
2002 No Award
2003 Mr T Armitt
2004 No Award
2005 No Award
2006 No Award
2007 Mr C Ward
2008 No Award
2009 No Award
2010 No Award
2011 No Award
2012 Mr J Drury
2013 No Award
2014 No Award
2015 No Award
2016 No Award
2017 Doug O'Hare
2018 Ian Jones
2019 No Award
2020 Dr Abdeldjalil Bennecer
2021 Neil Harrap


A nomination form can be downloaded here.

Details of all Institute awards can be found here.