Bond testing flaw detector
03/04/2019
Baugh & Weedon has released the new BondCheck, simplifying multi-mode bond testing, enhancing accuracy and increasing inspection speed.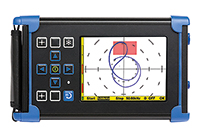 The new BondCheck is a multi-mode bond testing flaw detector providing high-speed bond inspection in pitch-catch or resonance modes, or mechanical impedance analysis (MIA), with excellent defect sensitivity. Inspection applications include those in which carbon and metal honeycombs need to be inspected for delaminations, disbonds and core damage, as well as small defect detection and dry coupling.

The BondCheck is ideal for a wide spectrum of advanced material non-destructive testing (NDT) required in the aerospace, automotive, wind energy and advanced manufacturing sectors.

Housed in a lightweight instrument (1.2 kg), with a common user interface between the three modes, the BondCheck delivers a simple and intuitive operator-led set up. The large daylight-readable display gives the BondCheck operator excellent data presentation and signal resolution. Users are able to configure colour schemes and use a secondary pane to create a split display with a choice of X-Y spot, frequency sweep and radio frequency (RF) waveform of spectrum displays, making the BondCheck an excellent all-round asset for inspection in the laboratory or out in the field.

The BondCheck pitch-catch probe delivers high levels of performance and durability. Ergonomically designed and manufactured from CNC-machined aluminium with rubber hand grips, it is both comfortable to use and robust. The position of the probe feet can be configured by the operator to suit the inspection task and the hard-wearing probe tips are interchangeable, with rounded and flat tip profiles also available. The probe uses broadband and is suitable for a wide range of applications.

Ergonomic design features continue with the BondCheck resonance probes, which are available in a selection of frequencies (80 kHz, 100 kHz, 160 kHz, 200 kHz, 250 kHz and 350 kHz) and can also be supplied as a multi-probe kit. Both probe types have an alarm LED and digital ID for ease of use, settings can be stored and 'air calibration' is possible to establish the most sensitive inspection frequencies for each inspection.

The BondCheck comes with a two-year warranty, backed up by the Baugh & Weedon team and its distributor network. Extended warranty protection for a duration of up to five years is also available, covering annual recalibrations, software upgrades and more.

www.bw-nde.com