Latest inspection technology added to rental fleet
23/04/2019
Launched in September 2018, the Olympus IPLEX GX represents the latest technology in visual inspection and is now available as part of the Ashtead Technology rental fleet. "This is important news for maintenance and inspection engineers," commented Steve Drake, Ashtead's NDT Market Manager. "Visual inspection is all about image quality and the IPLEX GX offers new levels of capability, with a larger touch-screen display, a 30% brighter LED light and a sophisticated noise reduction algorithm, to make it easier to identify defects in darker areas."

Recording 60 frames per second, the instrument generates smooth, crisp video, without the blurring that can hamper flaw detection. Critical moments in recorded video can be bookmarked and still images can be captured with the push of a button, without interrupting the recording.
Stereo measurement capability is included to enable the sizing of objects or defects using precise 3D coordinates. The instrument is also provided with Olympus Inspection Assist software, which streamlines the process from inspection to report generation, dramatically improving work efficiency.

With many years of experience, the Olympus development team has added a number of features to make the device easier to operate. For example, responsive 'TrueFeel' articulation makes it easy to control the scope's tip with precise movement and to stay in position with locking capability. This light touch control helps to minimise fatigue when working for extended periods. The inspection tip is extremely flexible and has grooves that use capillary action to draw oil and other contaminants away from the lens.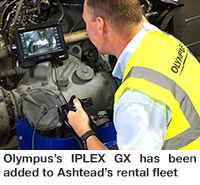 The IPLEX GX is a lightweight, rugged, battery-powered (150 min) videoscope designed for use in harsh industrial environments, such as engine or turbine inspection. However, Steve said: "These instruments are often rented for other applications where users need to look inside spaces that are difficult to access and customers have included film companies, building investigators and archaeologists, for example." Summarising, Steve added: "Our mission is to put the best technology into the hands of those who need it and the IPLEX GX is a perfect example of our determination to make that happen."

www.ashtead-technology.com