Pexa wins first Queen's Award for Enterprise
23/04/2019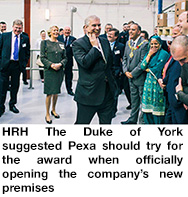 Pexa, one of the UK's leading suppliers of coatings and surface treatment products to aerospace and other high-technology engineering markets, has been awarded the Queen's Award for Enterprise. This award recognises the company's growth in international markets of over 70% in the last three years. In this time, it has opened new offices and outlets in Spain, Southern France, North Africa and India. The company has adapted its offer to match different regional needs and has established offices with teams recruited in the regions they serve.

"We are thrilled to win the Queen's Award for Enterprise for the first time", said Jim Rowbotham, Founder and Managing Director, Pexa. "HRH The Duke of York was kind enough to declare our new premises open when we moved here a couple of years ago. He suggested we try for the award and, encouraged by that, we did. Thanks to him for giving us a push in this direction."


Pexa began in 2002 as a business based on specialist know-how in aerospace coatings and establishing a unique position in the market, genuinely working with its supplier partners to develop strategies for commercialising, delivering and technically supporting their products. Pexa's customers are high-technology engineering companies, manufacturing and maintaining aircraft and defence equipment, energy infrastructure and electronics. The company's key products are surface treatments, paints and non-destructive testing (NDT) products. They have very high-performance properties but are also subject to chemical regulations and are hazardous for shipping. These are important challenges when supplying them internationally and Pexa's team is experienced at managing these issues and ensuring that its customers' projects are delivered on time.

Pexa now has more than 1000 customers in over forty countries and is providing products and services for major projects such as the Boeing 787 Dreamliner, Airbus A350 XWB and the F-35 Lightning II, among many others.

"This award is really due to a shared effort from our own team, whose know-how and energy have made the company a success, as well as our supplier partners who have supported us throughout and, of course, our customers and their faith in us, which we try to repay every day," said Jim.

The company has ambitious plans for the future and increasing internationalisation is an important goal. The aerospace industry will continue to grow globally and Pexa's UK roots provide a great knowledge and experience base, which helps to serve its customers very well. It now has a platform on which to build its offering globally.