Kistler's Correvit® SFII sensor measures world record
12/08/2016
The Academic Motorsports Club Zurich (AMZ) was founded by students at the Swiss Federal Institute of Technology (ETH Zurich) back in 2006. This year, the club successfully staged its Formula Student Project once again and broke the official Guinness world record for the fastest acceleration from 0 to 100 km/h by an electric vehicle. The Kistler Correvit® SFII sensor played a key part in setting the new world record by registering the point when the magical 100 km/h mark was reached.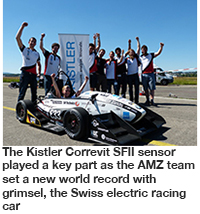 The car accelerated from 0 to 100 km/h in just 1.513 seconds; never before has an electric racing car managed to accelerate so quickly. The previous world record of 1.779 seconds, set by a Formula student racing team from Stuttgart, Germany, stood until 22 June 2016. The record was beaten at the first attempt on a 120-m track laid out at Dübendorf Aerodrome in Switzerland. 'grimsel', the Swiss electric racing car, attained a speed of 100 km/h after travelling only 30 m.


Precise measurement data is crucial for an attempt at a world record, when thousandths of a second make the difference between victory or defeat. With over 50 years' experience of measurements in the extreme range, Kistler has been a strong partner for the AMZ from day one, as the club's Vice President Jonas Abeken notes: "Kistler has already supported us for four seasons and has become a firmly established factor in our successes. When we started planning for the world record attempt, it was clear from the beginning that we wanted to use the Correvit SFII sensor again to ensure efficient control and, of course, to perform the official time measurement.
So, we were delighted when Kistler offered us their wholehearted support."
Projects such as breaking the record for the fastest 0-100 km/h acceleration by an electric vehicle call for courage, innovative endeavour and determination to push the existing limits. As a global innovation driver headquartered in Switzerland, Kistler is especially pleased to see that the Swiss pioneering spirit lives on and the company is delighted that its high-calibre sensors can play an active part by continuing to foster it. By delivering measurement solutions that make advances in research and development possible, Kistler claims it is paving the way for the transportation of the future.


Visit https://www.youtube.com/watch?v=n2XiCYA3C9s&feature=youtu.be to watch the video of the AMZ's world record attempt and to experience how quickly 1.513 seconds actually passes!


www.kistler.com