Argyll-Ruane marks its 50,000th PCN exam
01/12/2015
Based at the newly-opened Engineering Training Centre in Sheffield, Argyll-Ruane's (ARL) NDT Examination department processed its 50,000th PCN exam on 5 November 2015. Over the last 30 years, Argyll-Ruane has built a successful global network of training partners to deliver a trusted and world-class service in examination services to complement its NDT and inspection training and Level 3 consultancy services.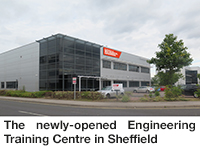 Mark Dowell, Managing Director at Argyll-Ruane, commented: "In our 30th year, this achievement celebrates the hard work and dedication of Chief Examiner Robin Dawson and the Examination Centre staff that have worked tirelessly over the years to provide the level of service our customers at the training centres in South Yorkshire and Halesowen, as well as our partners around the world, expect."

He added: "Whilst we are proud of the milestone, we are fully aware of the responsibility our students and customers place in doing it right. With the opening of the Engineering Training Centre in Sheffield and the state-of-the-art facilities it provides, we are fully equipped for the future and look forward to celebrating the 100,000th."

Following on from its acquisition by the Institution of Mechanical Engineers (IMechE), from 1 January 2016 Argyll-Ruane will be changing its name to Engineering Training Solutions, while continuing to provide a comprehensive NDT and inspection training service that includes certification and Level 3 services. Sonaspection, a manufacturer of custom and standard flawed specimens, also wholly-owned by the Institution of Mechanical Engineers, will come under the umbrella of Engineering Training Solutions. The restructuring enables the organisation to focus its efforts for 2016, providing a truly joined-up approach for all of its customers' NDT and inspection-based requirements.

2016 dates for ARL's extensive range of NDT and inspection courses, including those run on behalf of the Institute of Corrosion, have been released. Visit: www.imeche.org/arl email: arl@imeche.org or telephone the bookings department on: +44 (0)114 399 5720 for more information. Book before 1 January and only pay 2015 prices.