BINDT table-top exhibition
16/02/2015
The BINDT Table-Top Exhibition was held at the Thistle Altens Hotel, Aberdeen, from 26-27 November 2014.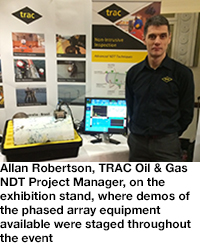 TRAC welcomed the opportunity of sponsoring the exhibition. The company had a significant presence, with its capabilities clearly visible to all, as it stood alongside BINDT during this two-day event.

The exhibition allowed TRAC to showcase its services as a leading rope access, inspection, repair and maintenance provider. It met with many of its customers and industry peers and placed particular focus on presenting its specialist and non-intrusive inspection capabilities, including TOFD, phased array, radiography and automated ultrasonic corrosion mapping.

As part of the extensive seminar programme, Bill Brown (Technical Manager and BINDT North East Branch Secretary) delivered a presentation on 'NDT training and certification in the oil & gas industry – developments', which was well received by all and covered the development and implementation of recent in-service certification schemes.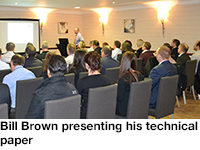 Gordon Cook, TRAC Oil & Gas Operations Director, said: "TRAC recognises the significance and value in sponsoring this event. It is of huge importance that the local industry takes time to get together and share our varied experiences and approaches to the current inspection and testing challenges we all face. This was a very successful event and we sincerely hope to repeat the format in two years' time."

www.tracoilandgas.com