IRISNDT Limited hosts successful Open Day
04/02/2015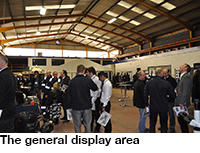 IRISNDT Limited recently celebrated the official opening of its new main office and test facilities in Immingham. The 36,000 ft2 (3345 m2) building complex houses X-radiography bays, heat treatment ovens, machine shop and mechanical testing laboratory. The largest of the radiography bays is 14 m in length. This, complemented with a 10 t crane (to be upgraded to 15) and 14 m heat treatment oven, makes it the largest facility of its kind in the region.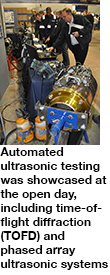 With its new workshop and office complex, the building houses IRISNDT's UKAS-accredited specialist and standard non-destructive testing services. These were on display to the more than 160 visitors who attended.

The companies represented ranged from refining, oil, chemical and power generation companies to engineering, fabrication, steelmaking, insurance and third-party inspection. IRISNDT's experienced technicians and technical managers, including some from its Canadian head office, were on hand to show the equipment in action and discuss applications.

The services being showcased included:
Automated ultrasonic testing with a variety of scanners and techniques, including time-of-flight diffraction (TOFD) and phased array ultrasonic systems
Advanced ultrasonic backscatter technique (AUBT) for the detection of high-temperature hydrogen attack
Acoustic emission testing of pressure equipment and tanks
Digital, computerised and conventional radiographic testing
Guided wave ultrasonic testing of piping, including high-temperature equipment
Positive material identification, in-situ metallographic and failure analysis
Rope access work
Storage tank and ship inspection
Tube inspection with 'IRIS' ultrasonic and eddy current systems
3D laser scanning of tanks, vessels and piping.
Presentations on 3D laser scanning technology and the creep strength of enhanced ferritic steels complemented the equipment demonstrations. Visitors were also given tours of the facilities and treated to coffee and other hot drinks from a mobile barista service. An excellent hog roast for lunch rounded of an interesting and worthwhile day for all concerned.