BINDT sponsors award at MFPT Society Conference
06/07/2016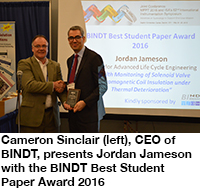 BINDT was pleased to sponsor the 'Best Student Paper Award' at the Society for Machinery Failure Prevention Technology's (MFPT Society) 2016 conference and exhibition, which was held in Dayton, Ohio, USA, from 24-26 May 2016.

The MFPT Society partnered with the International Society of Automation (ISA) to offer a combined event, called the 62nd International Instrumentation Symposium (IIS). By bringing together the expertise, perspectives and strengths of two premier industry organisations, attendees experienced a truly unique gathering. The symposium showcased instrumentation techniques, applications and technologies across industries, as well as incorporating the MFPT Society's focus on the practical application of health management across the entire field of engineering.

The theme of the joint conference was 'Advances in Technology to Support End-User Mission'. After a short speech outlining the importance of the professional development of people to drive the advancement of technology, Cameron Sinclair, CEO of BINDT, presented the 'Best Student Paper Award' to Jordan Jameson at a ceremony on the last day of the event.

The title of Jordan's paper and presentation, both of which were assessed for the award, was 'Health monitoring of solenoid valve electromagnetic coil insulation under thermal deterioration'. Jordan is currently attending the Center for Advanced Life Cycle Engineering at the University of Maryland. In addition to receiving a memento plaque, Jordan was also presented with a cheque for US$500.

BINDT has previously collaborated with the MFPT Society on numerous occasions and will be delivering the Thirteenth International Conference on CM and MFPT (CM2016/MFPT2016) from Monday 10 to Wednesday 12 October 2016 at the Novotel Paris Sud, Porte de Charenton, Paris, France. The combined efforts of two leading organisations will create the largest event of its kind at a truly international level, building on the highly successful series of twelve international CM conferences organised by BINDT and 70 annual conferences organised by the MFPT Society.

BINDT has always recognised the importance of encouraging students to participate in events, whether it be attending or presenting. As a repeat to the gesture in 2015, CM2016/MFPT2016 will be providing generous sponsorship of student registrations, resulting in a major reduction of fees for student attendance. Additionally, the Best Paper competition is intended to encourage students and people in the early stage of their career in the field of CM and MFPT to present their work. The winning paper will be selected based on both the quality of the paper and the presentation.