BINDT staff deliver two-day training event in India
22/06/2015
As part of a new initiative, staff from the PCN Certification Services Division of BINDT visited Tamil Nadu, India, in March to deliver a two-day training event to introduce and explain the many changes that have been implemented within the PCN Scheme during the last year.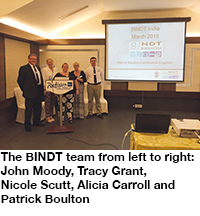 The free event was held at the Resort Temple Bay Hotel in Mamallapuram from 16 to 17 March 2015 and welcomed a total of 39 attendees, all of whom were either current or potential Authorised Qualifying Bodies (AQBs) and Accredited Training Organisations (ATOs). The high turnout was achieved by inviting administration personnel, trainers and examiners to attend from each organisation.

Tamil Nadu is the eleventh largest state in India yet is one of the most highly industrialised regions. It has the highest number of business enterprises and numerous engineering and manufacturing companies are located in and around the suburbs of Chennai. With seven BINDT AQBs and ATOs within this location, it was decided that BINDT staff should visit this region in India in order to communicate the changes to the PCN Scheme and to brief several representatives during one gathering.

Nicole Scutt, Director of Certification at BINDT, said: "By arranging the session overseas we gained a larger employee involvement and more attendees. This also made it easier to explain what we are doing and our reasons why."

This approach assisted in delivering clarification and reinforced the key messages of:

Refreshing and retraining attendees on the new PCN procedures;

Informing attendees of recent changes to the PCN Scheme, including the new distinction level of grading, reducing the time spent on practical examinations and the need for BINDT to take a proactive role in educating employers' expectations of PCN certificated personnel;

Providing working examples of re-occurring errors in order to educate the attendees and enable them to improve their processes;

Demonstrating the new online examination system, which is planned to go live mid-2015 for at least three methods, and highlighting the benefits of the same content coverage for all candidates, increased level of examination security and training to the syllabus rather than training candidates simply to pass the exam.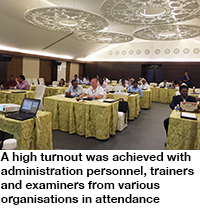 The event also provided an ideal opportunity for delegates to raise any questions regarding the large number of changes that have been introduced by the PCN Certification Services Division and the launch of the new PCN database.

"Following the success of this event, more are in the pipeline. Next year's event has been planned for March 2016 in Luton, UK, whilst the 2017 event will be held in Singapore. We will continue to alternate between the UK and overseas, deciding on the international location dependent upon demand," concluded Nicole Scutt.

For further information, visit www.bindt.org or contact Nicole Scutt, Director of Certification,
on +44 (0)1604 89 3856 or by email at: nicole.scutt@bindt.org