Oceanscan and GE 'Lunch and Learn' success
16/06/2015
Oceanscan and GE Inspection Technologies recently held a 'Lunch and Learn' at Oceanscan's premises in Aberdeen to demonstrate the benefits of the Mentor EM and weld inspection kit.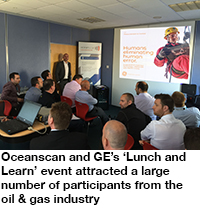 The event was attended by a large number of influential figures within the oil & gas industry and was hosted by key global GE representatives, including Erik Jansen (Channel Manager, North Europe), Dave Perrett (Technical Sales Manager – Eddy Currents) and Jason Messinger (Senior Product Manager).

The demonstration proved both useful and informative, and allowed the participants to gain a better understanding of the theory and concept of the Mentor EM platform and Create software, together with the power it brings.

The GE Mentor EM redefines eddy current inspection. The easy-to-use technology provides a user-friendly interface, which can be customised for data collection. The high-resolution touchscreen allows use in most applications as it enables the user to see in any light and can be used whilst wearing gloves. Real-time inspection readings can guarantee more precise data and faster decisions for the customer, which is important in an age where traceability is key.

Oceanscan already offers the Mentor EM with weld inspection kit from its extensive rental pool and is also committed to direct sales of the Mentor EM with a large number in stock ready for immediate delivery. Along with the instruments, Oceanscan is able to provide a wide range of accessories, including probes specific to the application or disconnect probes for use with the Mentor EM from its consumables department based in the Aberdeen office.

Following on from this event, Oceanscan and GE have teamed up with Array Training Limited (formerly Rigmar Training) to provide a rope access demonstration in the near future, which will allow participants to witness the practical working abilities of this new inspection technology.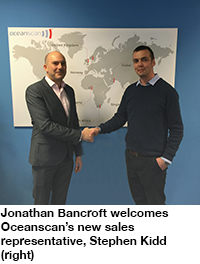 To further strengthen its partnership with GE Inspection Technologies, Oceanscan has announced the appointment of a new sales representative, Stephen Kidd. Stephen will be the main point of contact for Oceanscan's customers regarding GE equipment. This will include delivering further 'Lunch and Learn' sessions and on-site demonstrations for new and current products. Having spent the majority of his career working in the NDT sector, Stephen brings with him a wealth of knowledge and understanding of GE products, which he will therefore be able to pass on to customers to support their needs.

www.oceanscan.co.uk