Schaeffler and Mitsubishi Electric announce global strategic partnership
04/06/2019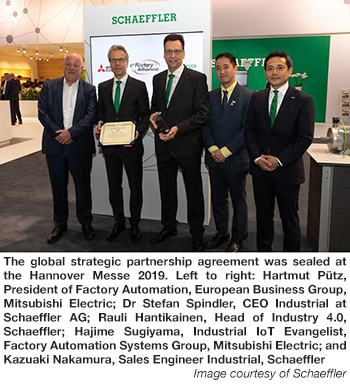 Mitsubishi Electric Corporation and Schaeffler Technologies AG & Co KG have announced a global strategic partnership as part of the e-F@ctory Alliance network. Since 2010, both companies have been partners in the e-F@ctory Alliance, which is part of Mitsubishi Electric Corporation's e-F@ctory concept. This concept supports companies with measures within the framework of the digital transformation, such as the integration of machine and plant data into manufacturing execution systems (MESs) and enterprise resource planning (ERP) systems.

Industry 4.0 scenarios are characterised by highly individualised products in very flexible manufacturing conditions. Along with production technology, Industry 4.0 also comprises digitally connected components and machines. Dr Stefan Spindler, CEO Industrial at Schaeffler AG, explained: "To provide Industry 4.0 solutions with substantial added value for the customer, we need collaboration across different companies. With the technological expertise and systems knowhow of Schaeffler and Mitsubishi Electric teamed up in this global strategic partnership, we will be able to offer intelligent solutions tailored to customer and market requirements to optimise manufacturing operations and equipment lifecycle costs."

Noriyuki Shimizu, Corporate Executive Group Vice President for the Factory Automation Systems Group at Mitsubishi Electric, added: "Over the last few years, we have successfully carried out joint projects in various countries in Europe and Asia. Now, we intend to intensify and expand our collaboration on a global level."

Schaeffler and Mitsubishi Electric have collaborated to boost connectivity and to create Industry 4.0 solutions that reduce machine downtime and maximise productivity for the customer. For example, the seamless message protocol (SLMP) implemented in Schaeffler condition monitoring systems enables vibration sensors to communicate bidirectionally with Mitsubishi Electric's programmable logic controller (PLC) and to transmit the characteristic values determined. The PLC processes the data into information, which is prepared in the form of plain text messages and shown on a display. An additional integration level also allows the condition monitoring system to be connected with the PLC of the relevant plant via a network cable and Modbus protocol.

Schaeffler contributes concepts that combine mechatronic products, condition monitoring systems and digital services to form application-specific 4.0 solution packages. These provide the basis for the creation of customised products and services, the main focus of which is always on the effectiveness of the overall system.

Mitsubishi Electric Corporation offers a vast range of factory automation and processing technologies, including PLCs, inverters, robots, servo drives and human-machine interfaces (HMIs), helping to bring higher productivity and quality to the factory floor.