Wood wins government backing to bring space technology to nuclear decommissioning
05/03/2018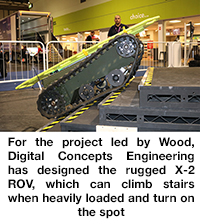 Wood is leading research to make nuclear decommissioning safer, faster and more cost-effective by innovatively applying new technologies developed in space exploration, car production and medicine.

Leading one of five projects selected from a shortlist of 15, the company has secured approximately £1.5 million funding from the UK government's Department for Business, Energy and Industrial Strategy, the Nuclear Decommissioning Authority (NDA) and Innovate UK after winning a prestigious competition to find the best new ideas.

Wood and its supply chain will combine new data and control systems with state-of-the-art robotics to design a demonstrator system for cleaning and dismantling highly radioactive rooms or 'cells' at Sellafield in Cumbria, UK, one of Europe's most complex nuclear sites.

The technologies used in Wood's project include novel material handling solutions, to reduce the risks associated with working at height, mixed reality headsets, a multi-fingered gripper, which allows robots to grasp different objects, and a navigation system designed for missions to Mars, which enables autonomous mapping where human access is impossible.

Bob MacDonald, CEO of Wood's Specialist Technical Solutions business, commented: "Our innovative proposal for a fully remote solution removes the operator from a hazardous environment and is adaptable enough to tackle different tasks, many of which present unique challenges. "Wood's role is as an innovation integrator, bringing together ingenious ideas from industry and academia to define a new approach to the nuclear decommissioning challenge."

Melanie Brownridge, the NDA's Head of Technology, said the response from suppliers and academic institutions has been so promising that the total amount available to the five chosen projects has been increased from £3 million to £8.5 million. She added: "We were all incredibly excited by the quality and diversity of the submissions, which came from established nuclear organisations as well as industries working with us for the first time – such as space and defence sectors."

Wood's research partners are Airbus Defence and Space Ltd, Clicks and Links Ltd, Damavan Imaging SAS, Digital Concepts Engineering Ltd, IS-Instruments Ltd, I3D Robotics Ltd, the University of Lancaster, the University of Salford, Kawasaki UK Ltd and TWI.

Wood is a global leader in the delivery of project, engineering and technical services to energy and industrial markets. Operating in more than 60 countries and employing around 55,000 people, it provides performance-driven solutions throughout the asset life cycle, from concept to decommissioning.