Lavender International supporting NDT apprenticeships
18/03/2019
Lavender International is continuing to raise awareness of NDT and the rewarding career opportunities that are available within the industry, including the NDT apprenticeship schemes, by attending STEM events and careers fairs and providing interactive demonstrations to local schools and technical colleges.

It is predicted that the UK will need 182,000 people with engineering skills every year until 2022[1] to fill the STEM skills shortage gap. This, along with an ageing workforce within engineering and NDT specifically[2], means that inspiring the younger generation and encouraging students to consider a career in engineering is paramount to filling the skills gap and creating a more diverse workforce.

In an attempt to inspire the younger generation, Lavender International has recently provided a two-day workshop to over 100 year 11-13 students at the University Technical College (UTC), Sheffield, where they gained hands-on experience in magnetic and penetrant testing, as well as learning about the NDT apprenticeship schemes available. The students also completed an NDT-based assessment, which formed part of their coursework that will contribute towards their GCSE qualifications.

"Many students have not heard of NDT before and these workshops really do help create a level of understanding that enables the students to access higher grades. Learning about different roles in the industry and the apprenticeships also helps them gain a better understanding of the range of career options that are available," said Adrian Dulley, an engineering teacher at UTC Sheffield.

Approximately half of the engineering students at UTC Sheffield go on to undertake apprenticeships, possibly the result of students having an increased awareness about the benefits apprenticeships can bring. These include learning invaluable key skills, gaining professional qualifications and practical work experience free from tuition fees, all while earning a wage.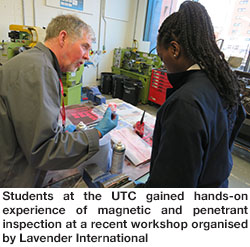 However, apprenticeship schemes are not a mainstream pathway for the younger generation in the UK[3]. Societal perceptions have favoured the traditional degree route, yet some degrees no longer guarantee graduate-level enrolment and, with the numbers of graduates on the rise, a competitive labour market has been generated in demand of additional qualifications such as unpaid work experience[4]. With this, it is important to change perceptions surrounding apprenticeships and promote all career opportunities available to young people.

"We will continue to work closely with Skills Training UK (STUK) in supporting apprentices with their NDT training as part of their NDT apprenticeships. We have recently taken on our own apprentice and we are looking forward to seeing what the future holds," said Nicola Dodsley, Operations Director at Lavender International.

Lavender International will be supporting National Apprenticeship Week 2019 (4-8 March), a government campaign designed to highlight the benefits apprentices bring to employers and the opportunities apprenticeships present to individuals and the wider economy (#NAW2019).


References
2% aged 55+. BINDT Survey 2016. www.bindt.org/downloads/2016-BINDT-Survey-Summary-Report.pdf

A Mazenod, 'Education or training? A comparative perspective on apprenticeships in England', Journal of Vocational Education & Training, Vol 68, No 1, p 106, 2016.

L Ryan and M Lorinc, 'Perceptions, prejudices and possibilities: young people narrating apprenticeship experiences', British Journal of Sociology of Education, Vol 39, No 6, pp 762-777, 2018.